Dubai or not Dubai at Bet365 Bingo
The brighter nights are slowing making their way towards us which can mean only one thing, spring is on its way. That's usually around the time when we start to think about holidays and bet365 bingo can help you out, with the ultimate holiday in their Dubai or Not Dubai promotion.
The bet365 bingo Dubai or Not Dubai promotion is packed full of amazing prizes, including giving their players the chance to win one of three fantastic rewards, from a luxurious holiday for two in Dubai, VIP treatment at one of three of the biggest sporting events in the UK including full hospitality, or one of 10 Samsung Galaxy Tablets.
How to Play Dubai or Not Dubai
To stake your claim to one of the awesome prizes available in Dubai or Not Dubai, all you have to do is simply play from now until the end of April to earn unlimited tokens. Once you have collected as many tokens as you can you then trade them in and enter the prize draw of their choice; you can earn one token for each of the following:
Every time you stake £10 on Bingo or £5 Wagered in these bet365 Bingo Rooms: Kiss & Tell, The Catwalk, Super Star Bonanza, Bargain Bingo, Mojo Lounge and the Auction House.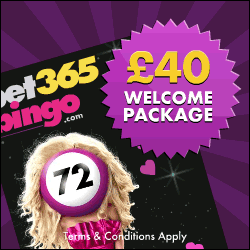 Claim a Full House win in the Auction House room from 11.00 until 17.30, as well as for every one-line, two-line and Full House win from 20.30 each day.
Featured Chat Game win, in bet365 bingo rooms.
Deposit and play £20 on Slots or Scratchcards or £10 played on two of bet365's best slots, Sevens High and Sinbad.
Dubai or Not Dubai Booster Day
To make this promotion even more appealing bet365 have even introduced a Booster Day, this is happening on the 11th March and they are offering triple mobile tokens.
On the booster day you can three tokens instead of one every time you spend £5 in the Kiss & Tell, The Catwalk, Super Star Bonanza, Bargain Bingo, Mojo Lounge or the Auction House rooms via your mobile or tablet.
As you can see there are plenty of ways for you to win and plenty of top prizes available. To be in with a chance of claiming your prize, start collecting now with Bet365 Bingo.