Last Chance bet365 Christmas Promotion
Time is running out and it's your last chance to bag yourself some amazing prizes with bet365's bingo and slots Christmas promotion; be sure to stake your claim today for a truly special Christmas.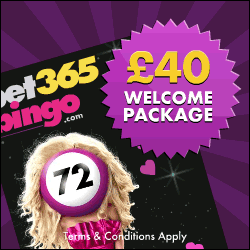 Bet365 bingo's cracking Christmas events are bursting with prizes
Bet365 Bingo heads are walking in a £250,000 Winner Wonderland this month. Join them and play in any of bet365's exciting bingo rooms or on their fantastic slots, to earn prize draw tickets for this exclusive event. The draws take place every four days until 26th December.
Prizes on offer at bet365 bingo include many of this year's most desirable gadgets – like iPad, PlayStation 4, Xbox One, Kindle Fire and MacBook Pro; in addition to a £5,000 family holiday and much more.
Play in certain rooms and on specially selected slots to earn tickets twice as fast. Sleigh ride over to bet365 bingo today, because there's a flurry of prizes just waiting to be won.
That's not all, because you can also have a cracking time by jumping on bet365 bingo's £250,000 Christmas Escalator Jackpots. There is at least £10,000 to win in the Guilty Pleasures room, every day until 24th December.
Win a game by a certain ball count at bet365 bingo to pick up at least £5,000, whilst everyone else with a ticket for the winning game shares another fantastic £5,000.
The ball count rises by two every hour until bet365 bingo's last game at 23:54 UK Time, when if the jackpot still hasn't dropped, it's guaranteed to go to the bingo head who calls Full House.
With over £500,000 up for grabs in total, 'tis the season to go for a jolly good win at bet365 bingo.
Play Winner Wonderland with Bet365 Now!
Bet365 Bingo Sign up Bonus
Those who are new to Bet365 Bingo can take advantage of an introductory offer worth £25. The bingo welcome bonus kicks in as soon as a new player has deposited and spent at least £5 on bingo tickets. That's when £25 is injected into the new account for free bingo play. A special 10-digit offer code is sent to new players via email, to activate the welcome bonus.