NFL Accumulator Betting Tips 231212
It's the penultimate weekend in the NFL tonight and there is still a lot to be decided.
NFC east division is wide open with Washington, Dallas, and the Giants all tied 8-6. The Cow Boys entertain the Saints and Washington travel to Philadelphia. But it's the Giants who have the biggest challenge at the Baltimore Ravens, who themselves are still fighting for the AFC North division title.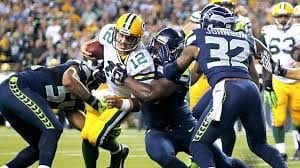 Also in the AFC North, Pittsburgh Steelers take on Cincinnati Bengals at Heinz Field, with the winning team taking the advantage in the division standings for a wild card spot. With Ben Roethlisberger back as QB and pulling the strings, it's going to be a tough task for Cincinnati.
Indianapolis look good for one of the wild card entries and travel to Kansas City to take on the Cheifs, in what should ordinarily be a walk in the park. Andrew Luck has shown plenty of promise in his debut season and has gone a long way to justify the release of Peyton Manning to Denver; but the playoffs will be an interesting test for him should they make it.
So far this season we have been good for over a third of our NFL tips, which puts us at the forefront of NFL betting tips. We missed out last week thanks to some poor defending by the Patriots, but we don't see that being an issue this time round. So we have come up with this very lucrative accumulator to make it up to you and we're more confident than ever that it's going to come in.
NFL Accumulator Tip 6 fold
Saints @ Cowboys
Titans @ Packers
Vikings @ Texans
Colts @ Cheifs
Patriots @ Jaguars
Browns @ Broncos
We found this six with the best odds at 888sport.
Bonus NFL Accumulator Tips
Being as we have good form with our predictions we're going to be audacious and predict the outcome of all the games that are left to play today, for a super bonus NFL Accumulator Tip.
Bills @ Dolphins
Raiders @ Panthers
Bengals @ Steelers
Chargers @ Jets
Redskins @ Eagles
Rams @ Buccaneers
Giants @ Ravens
Bears @ Cardinals
If you add all of our picks to your betting slip at Betfair, a £10 bet returns a whopping £1,849, plus it also qualifies for Betfair's NFL 20% accumulator bonus.