Weird Sport – Real Ale Wobble and Ramble
Another British sport for us all this week, the Real Ale Wobble and Ramble.
This is similar to the beer drinking competitions that have been reviewed previously, but with one notable exception; this involves proper alcohol. The use of real ale was introduced to improve the experience of drinking, rather than just getting abit tipsy.
The Real Ale Wobble, like beer drinking games has its heritage masked in the history of drinking beer at as many places as possible, within a specific period of time.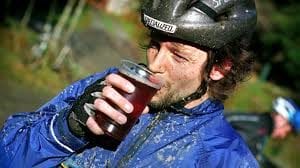 There are two main events within Wales the Wobble, involving bikes as the method of transport from one venue to the other. The Ramble which could be classed as a stroll, involves walking from one pub to another.
We can't help but draw parallels to the At Worlds End film that has recently been released, after all it involve a pub crawl around local traditional pubs.
In the interest of fairness the rambles are not restricted to on foot or bike, the Wiki page: http://en.wikipedia.org/wiki/Rail_Ale_Ramble shows the history of the Rail Ale Ramble.
The details of the Wales version of these events can be found here: http://www.ldwa.org.uk/challenge_events/show_event.php?event_id=11030
This version of the Real Ale Ramble is more of a competition, in that the contestants need to cover 15 – 35 miles of Welsh terrain in order to complete the course. Possibly to give the competitors time to sober up between real ale experiences.
The YouTube video for the wobble can be found here: http://www.youtube.com/watch?v=zBqBOa_GNa0
Hopefully which real ales the competitors consume at the stop offs won't be too strong and impar their bike riding abilities. So there we leave the real ale wobble and ramble, with me sprawled at the bottom of a Welsh valley trapped under the cold steel of a destroyed mountain bike, desperate for the next sip of high quality Real Ale….don't worry I'll be back next week.