Weird Sports – Bed Racing
Here we all are for another weird or unusual sport.
Today we have something of a treat for those who like to lie in in the mornings. No it isn't competitive snooze button pushing.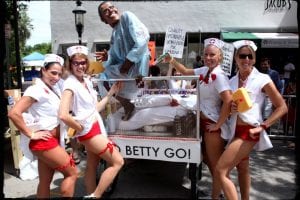 YES! I just Googled that and it isn't already a sport, I have finally invented a new crazy sport!!!
Anyway, the sport we are looking at today, not invented by me is Bed Racing.
Bed Racing is held in many different areas in the world. But I am going to focus on the North Yorkshire town of Knareborough.
Bed Racing was originally run in 1965 as a competition involving the Army, Navy and American Marines.  Currently open to pretty much anyone who wants to take part.
Bed racing is run every year with a different theme.
This year's Theme is Myths and Legends which should be a really interesting basis for the entries. Unfortunately if you wanted to participate the entry forms needed to be completed by the end of February, so you have missed it for this year; but there is always next year.
It looks like a few of the rules are in reaction to previous events, for example the no alcohol whilst actually racing. The limits of swearing and rude gestures are all in place to make the event appropriate and entertaining for all members of the family.
I will try and encapsulate some of the more crucial rules as quickly as possible:
Teams should be 6 people, 6 men, 6 women or three of each and one passenger. All competitors must be able to swim. Only the nominate passenger may ride on the bed, so no cheeky rests along the way. The passenger must wear protective headgear and a life vest so even though they are resting for the race, it must still be pretty dangerous and their sleep might be interrupted!
Possibly the most difficult rule to follow is that all teams must be able to complete the course in 30 minutes. After bump starting a car this weekend, I can probably guarantee that I wouldn't be able to do that!
There are even rules as to the design of the bed used in the race, all I really know is that my bed would not qualify. After the trouble I had getting it up the stairs at home it would probably take a week to complete the course.
So there you are. Another strange sport that has quite a big following, a colourful history and above all else, a boat load of rules to follow!