Weird Sports – Extreme Ironing
This week we will have a look at extreme ironing.
That's right, ironing to the EXTREME!!!!!!!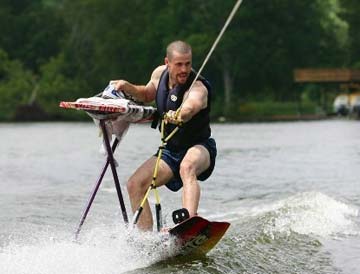 This is a sport that I actually have some firsthand experience with. Anyone who has ever burnt their hands whilst doing the ironing, can tell you how extreme it is in your living room!
More information and quite a lot of history can be found here: http://en.wikipedia.org/wiki/Extreme_ironing.
It is fair to say that some people must find ironing a lot more important than I personally do (but the same could be said for soccer ball as well I suppose.)
This version of ironing, however, involves the competitors taking their ironing boards to hard to reach places, setting them up and as you can guess, doing some ironing!
These hard to reach places could be anywhere, up a mountain, in a tree, under a frozen lake. I am not sure if success in this sport is measured solely by successfully reaching the location, or if quality of the ironed items is factored in.
If so, I suspect that there would need to be different categories of competition. Like boxing with light weight and heavy weight, you could have the tea towel league, the shirt league, the bedding league; each league will have a world champion of sorts.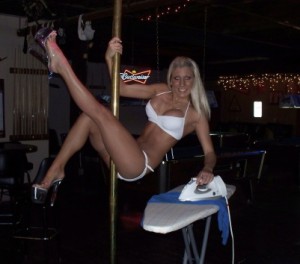 The champions could get sponsored by Tefal or Hotpoint, oh or Morphy Richards and they would do TV adverts like: "When I compete in the Extreme Ironing championships I only ever use the Morphy Richards pro-glide extreme 12, with constant steam action and a three hundred and sixty degree turning circle."
The latest in modern ironing technology could be showcased and the commentators could have long conversations about the style and design of the ironing board, the sponge lining and the light weight carbon fibre, reinforced frames. Techniques for each specific location would be developed and referees would be needed and drugs tests. I imagine that doping (whatever that is) will be prevalent in the sport and then they would have to start banning other performance enhancers, like starch sprays and scented ironing water.
Web sites like this one: http://housekeeping.about.com/od/surfacefabric/a/ironmistakes.htm would be useless, as anyone who followed extreme ironing would already know these simple rules for easier ironing.
Then again, maybe it would be better to keep it about the location and keep the sport fun and light hearted. After all, it wouldn't be as interesting if it took itself too seriously.
Check out this Extreme Ironing montage – Extreme Ironing Collection.