Weird Sports – Joggling
Yet another sporting event that I have never heard of: Joggling.
The combination of jogging and juggling becomes Joggling. No this isn't where your underpants are too tight when you sit down quickly. Joggling involves the competitors juggling whilst running a race. If the competitor drops one of the objects they are juggling, then they must return to the point they dropped it and continue from there to the end of the course.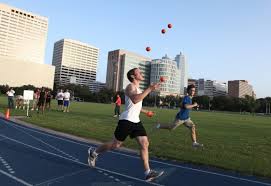 The Joggling community get together for the Joggling World Championships.
People compete in races ranging from 100 meters to 5 Kilometres both individually and in relay races. For the relay races the competitors replace the traditional baton with one of the balls they are juggling. To avoid cheating the receiving athlete only have two balls (to juggle with), until they receive the third from the previous team mate.
The ever trusty Wikipedia article provides some details on the previous events that have been held for the Joggling championships: http://en.wikipedia.org/wiki/Joggling
Including the winners for each event and even some of the weather conditions.
There are also a ton of Videos on You Tube of Joggling from Beginner guides: http://www.youtube.com/watch?v=qp9Dpemn0xs to people making world records: http://www.youtube.com/watch?v=hYjbu2Bbj88.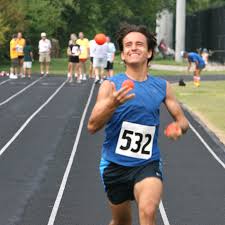 One of the early Joggling players maintained the world record for the 100 meter, 5 ball race which they completed in 13.8 seconds in 1988. I don't think I could run 100 meters in 13.8 seconds let alone do the juggling as well.
Not satisfied with straight forward runs, some bright spark decided that it would make a good idea for a triathlon. I wasn't sure how the logistics of that so luckily for me You Tube provides: http://www.youtube.com/watch?v=1QoqenZytO8
In 2012, Joe Salter set a record for the fastest triathlon while juggling. He swam 0.25 miles while juggling three balls, rode 16.2 miles on a bike while juggling two balls in one hand and then completed a 4-mile run while juggling three balls. He managed to do all of this in one hour, 57 minutes. I have it on good authority that swile he was swimming he was swuggling and when he was on the bike he was buggling!
So there you are Joggling another strange combination of sports, created to test multitasking in those who are really competative.