Weird Sports – Man vs Horse
I'm going to level with you and say I know very little to nothing about sport, even the big sports like football and that one where people appear to be carrying an egg form one end of a field to another; I think it's called rugby. So if I were going to write about any sport I thought I would write about weird sports, the more obscure ones you rarely hear of.
Each of these articles will identify a strange sport, try to explain its rules and hopefully give a history of the game and any competitions that have taken place.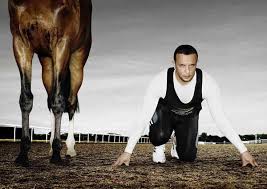 So Let us start with "Sport" number 1.
As always I have taken inspiration from the internet and a quick search for weird sports brought me to the Man vs Horse marathon.
According to: http://www.green-events.co.uk/events.html?id=54 (where anyone who is interested can complete an entry form) The event first ran in 1980 after a conversation (over a few pints), on the relative merits of Humans and Horses over mountainous terrain.
A change to the course in 1982 was made to even the odds between man and horse.
The Rules:
You turn up and run. If you have a horse there are mandatory vet checks at the beginning and then you run. Basically everyone runs; a lot.
The competition is run over 22 miles of difficult terrain.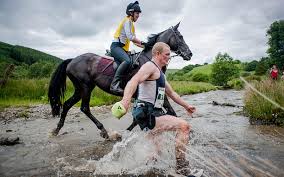 Entry fees for an individual runner is £20, a relay team of three runners is £55 and a horse and rider £30; so they are clearly not charging per leg for entry. I suppose you could go as a relay team, but dress two people up as a pantomime horse and save a bit of money (not that I would advise that, of course.)
The prize fund for a human winner increases by £1,000 per year (a bit like the Pointless prize fund on BBC1), so if you think you can win then let the prize money build up for a bit.
If you fancy having a flutter on the event my "expert" advice would be to bet on one of the horses. Seriously they have won every year except 2004 and 2007.
Hope you enjoyed this in depth analysis of the sport of:  MAN VS HORSE!!