Fancy Bingo Valentine's Promotions
This is the time of year when love is in the air and roses are all around, so why not join Place a Bet Online and play some amazing Valentines promotions with an impressive site called Fancy Bingo.
They have two incredibly generous offers which we're here to tell you about;
In the Name of Love in Paris – How does a trip for 2 to the most romantic place in the world sound? Yes that's right, if you join Fancy Bingo on the 16th February 2015 at 8.30 you could win a city break to beautiful Paris, the city of love! You'll be able to walk along the River Seine, eat croissants in the cute cafes and see all the sights of Paris, including La Louvre, the Eiffel Tower and the famous 'love lock' bridge!
You will earn extra cards when you play with Fancy Bingo between the 2nd and 15th February. So if you deposit £10 you'll get 6 extra cards, and when you wager that deposit you'll receive another 6 extra cards making a grand total of 12 to play with.

In the name of Love with Flowers – their second game plays a little later, on the 2nd March at 8.30pm and this prize is for the horticultural fans out there; a year's supply of flowers!
Alike the first promotion you can earn extra cards between the 16th February and the 1st March simply by depositing and wagering on bingo. This game is perfect for you special single ladies out there who love to get spoilt with beautiful flowers every month throughout the year!
If you prefer to buy cards instead you can start now in the lobby for £2, or exchange 10 diamonds per card in their diamond loyalty room.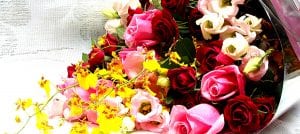 For those of you new to Fancy Bingo you'll have the added advantage of their welcome bonuses which include £5 bonus upon registration, a 300% cash match bonus on your 1st deposit and 50% extra on all deposits up to £50.
To register and start claiming your cards, we'll take you through to the Fancy Bingo page.