Landline Casino Payments
The world of online gaming is constantly changing and although many of us stick to our favourite sites or games, it can be good to stretch out of our comfort zone. Payment methods in online casino sites have expanded significantly with e-wallets such as Neteller, Ilixium and Apple Pay taking over from the mainstream bank transfers. Then with the explosion of pay by mobile phone bill, we players felt we pretty much had it all. Well, we're about to bring you another banking method which you may not be aware of, namely landline casino payments.
There is a similarity to mobile phone payments, but this shouldn't stop you from discovering the landline process. The younger readers out there probably don't remember a time when the landline was our main form of communication. But if you're over forty we're sure you'll still have a landline in the house somewhere and it's those gamers who may want to use this as a banking option.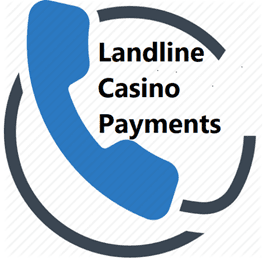 Pay by landline casino has taken a while to filter through, because the main focus has been on mobile technology. But with recent innovative changes made to BT payment technology, we're predicting more of an uptake by casinos and players. This probably won't be to the same level as Boku banking, but landline payments give players another option which offers the simplicity of mobile payments.
Having a variety of banking choices is ideal because people have such different preferences. We can imagine that landline billing payments will be an option for the older generation who are comfortable with that format.
So now we've given you the basics, here is a little more detail on getting casino credit deposits through your BT landline. Plus a few of our chosen casino and slot sites which provide excellent gaming and enticing welcome offers.
For the speed readers out there, who want a quick breakdown, this article will:
Inform you about what landline casino banking is and the process of what to do,
We'll tell you a few of our favourite casino and slot sites who offer BT landline payments,
Bring you the pro's and con's of using landline payments, instead of the normal Boku banking, e-wallets or bank transfers.
Best Landline Deposit Casinos in the UK
All of these sites are from top quality igaming providers and are licenced by the UK Gambling Commission. You will find exciting welcome bonuses and weekly or monthly promotions. There will be terms and conditions such as wagering requirements attached. Then add in the incredible range of games on each site, whether your preference is casino games, slots or progressive jackpots. One of these sites is also our favourite phone bill sports betting sites.
What is Landline Casino Billing and How Does it Work?
Most of you will be aware of mobile phone bill banking through Boku or Payforit. This banking method has exploded onto the gambling scene and made crediting your casino account much easier. It was the fact that players didn't need to repeatedly provide their bank details which cemented its success, especially with financial fraud being such a concern.
Although this popularity hasn't moved across to landline billing, there is still a number of valid reasons for players to consider this as an option. Especially if you have landline contracts with BT bill, Virgin Media or TalkTalk. For many landline billing casino players, the fact there are reduced fees, quicker processing times for credit and increased limits, have all added to the excitement of this banking method. This is pretty much what a long-term gamer would look for when choosing a payment option.
What depositing method you choose is a personal opinion, because we know that there are many others out there. E-wallets such as PayPal and Neteller are incredibly popular, because after a few taps on a screen you're done. But BT landline for casino credit will open up its own benefits for you, so don't completely dismiss it straight away. The first one you will discover is that it involves top landline telephone providers, and they will only work with trusted casino brands. This should make you feel more secure with your choice of casino, because we know there can be some unscrupulous sites online.
How to register for landline slot payments:
Select the Casino or Slot Site – Probably the most important point to begin with, but we've given you a great selection to choose from. Because landline billing is still relatively unknown, not every brand of casino will offer it as a depositing payment method. So, check out our picks which combine top quality games and amazing promotions.
Register and Select Casino Landline Billing – After you have completed the details required for registration including your email address, then you will be asked to choose your preferred method. If you opt for landline then you will be transferred through to the provider and asked for additional information. At the start you need to confirm the amount of credit you want to deposit. To ensure the safety of vulnerable players, this amount will more than likely be capped. Initially it tends to be about £30, but you will find that it will increase over time. They will then need your landline number which is exactly the same as if you were choosing the mobile banking option. Obviously, the difference between SMS depositing is that instead of receiving a text to your mobile, you will get a call to your landline to verify the information. On the end of the landline there will be an automated operator who will request that you complete a process to validate that the activity is legitimate. At no point will they request financial information from you to complete the transaction. Once this is done then the credit will be added to your casino account, but we would advise that you stay on the line until the call is completely finished before you hang up. If you were to accidentally cut the call before the verification process is complete, then the credit will not be transferred, and you will need to complete the whole thing again.
Away You Go – After the verification has been completed and the credit has entered your account, then you can begin to play. You will be asked to pay for your credit via the landline provider and this will be through your landline bill, whether that's from BT, Virgin Media or TalkTalk. The specific amounts will be detailed, but should you have any queries then it is the provider you will call and not the casino site.
Pros of Adding Casino Credit on UK Landline
Quick Transfers – For those of you that normally use payment methods such as bank transfers, you know the frustration of having to wait for the money to enter your casino account. Landline phone contract payments pretty much go into your account immediately. You of course must verify the transaction, but once that's done then the money should be moved to your wallet. This can take longer on weekends and bank holidays, but it is still a lot quicker than other forms of banking.
Increased Financial Security – Because you don't have to repeatedly provide your bank details to various casino and slot sites, there is a reduced risk of bank fraud. This is the reason why phone bill payments have become so popular. With BT landline banking the phone provider already has your account details so you can pay your monthly phone bill. The only information they need is your landline number and then once you've verified it, the payment process will complete.
Ability to Manage Your Spending – The ability to receive the credit now but pay it off when your landline bill comes through, lets players manage their money through the month. Especially when you add in the fact that there is a daily cap on the amount you can request. Landline phone payments are not another form of credit card and they should never be used to gain casino credit that you cannot afford.
Cons with Using BT, TalkTalk and Virgin Media Landline Deposit
Deposit Cap of £30 – When it comes to how much credit you want to deposit, every player is different. For many the cap of £30 a day is completely fine, but there are some of you who have the disposable income to add more. This is where the frustrations can happen for those using phone bill payments. The only way to get around it is by using another payment method as well as landline billing, but that will remove the benefits we have already mentioned.
Cannot Make Withdrawals – The option of using Landline BT Billing is purely for depositing credit into your casino wallet. Sadly, you are unable to withdraw any funds using this method which can be an issue for players. If you have winnings to remove from the site, then you simply add another banking method. But this again can take away the original benefits of using landline. It should be noted though that the same will occur if you use mobile phone bill with Boku, but it is still incredibly popular in the gaming industry.
Lack of Casino's Offering Landline Deposit – As we have already mentioned pay by phone bill is incredibly popular. The same cannot be said for UK landline casino payments and as such it is hard to find a site which offers it. We have recommended a few to get you started, but you can also contact a favourite casino and ask. We have found that many sites offering mobile phone banking will also have landline payments too.
Online Gaming on Slot and Casino Sites with BT Deposit Landline
The sites who offer landline billing including the ones we have mentioned above, have an incredible number of games from the top providers such as NetEnt and Microgaming. Whether your preference is slots, casino, table casino, live casino or progressive jackpots, all of these casino sites will have something for you. A lot of the featured favourites can be found such as Gonzo's Quest and Rainbow Riches, but why not play a new game and see if you like it?
Alternative Banking Casino Options
Pay by Phone Bill with Boku – Throughout this article we have mentioned Boku and phone bill casino deposits and that is purely because of its similarity to landline payments. The process is basically identical with the exception of the verification stage. With landline you receive a call to the phone, whereas on Boku you will receive a text which will inform you of the stages to follow to confirm your acceptance. Once completed the credit is transferred into the casino wallet and you can begin to play. The additional bonus with mobile is that you also have the option of using up the prepaid credit which you may not have used for phone calls.
Prepaid Cards (Paysafe Card, Neosurf) – To begin with you need to purchase a card which you will top up online. For the transaction to go through a PIN code is generated which will ensure safety from online fraud. For most prepaid cards there is a capped maximum amount, which is similar to phone bill payments.
E-Wallets or Debit Cards – Both e-wallets and debit cards are the most popular banking methods for online gaming. The reason for this is purely because of their simplicity, the fact you instantly receive the credit and for the majority of providers, there are no fees. Most people use the likes of Paypal deposits in their everyday life, so it wouldn't be a big jump for them to use it for online gambling. The additional benefit is that you can also withdraw using these methods, which is sadly the only thing missing from landline banking options.
You have the information, you have some great casino sites to choose from, all you need to do is pick one and follow the registration process. We expect that landline depositing casino payments will become as popular as mobile phone bill, but only time will tell. Until then we hope you enjoy some great gaming!