Stan James New and Existing Customer Bet Bonuses
Join Stan James right now and they will give you a £10 free bet.
All you have to do is visit the sign-up page, take a few minutes to register your name and some other details. Then once you have your first bet, they'll match it up to the value of £10 within 24 hours of it being settled. Simple!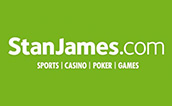 Sign up to Stan James
Did you know about the bet bonuses at Stan James?
You might not know this, but they pay bet bonus cash every single day to their happy punters, to keep them happy.
Whether it's bonuses on multi-bets, or paying out on two results, when you become part of the Stan James crowd you'll find yourself getting even more from your betting.
Lucky Bets
Stan James reward you with bonuses if you have either one of a Lucky 15, Lucky 31 or Lucky 63 bet on the horse racing or greyhounds.
Here are the bonuses you can pick up:
Lucky 15 – Stan James double the odds if you pick only 1 winner and if you pick 4 winners they add an extra 10% to your returns.
Lucky 31 – You'll receive double the odds if you pick only 1 winner, but if you pick all 5 winners you receive a 10% bonus and picking 4 winners means you'll get a 5% bonus.
Lucky 63 – double the odds again if you back only 1 winner, but if you back all 6 winners you'll receive a massive 15% bonus on your winning. Pick 5 winners and you'll get a fantastic 10% additional bonus.
Double Payout
What happens if you back a winner on the horses but your selection gets thrown out by the stewards? Don't worry, if the horse race is in Britain or Ireland, Stan James will pay out on the disqualified horse as well as the horse promoted to first.
Forget The 5p Rule 4
If you bet on a horse race and there is a non-runner, they don't deduct the rule 4 if the deduction is for 5p. That means you get a better deal.
Sign Up to Stan James today and you could be enjoying all these bonuses every day