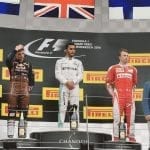 2016 Austrian GP Round Up
This week Place a Bet Online were at the Red Bull Ring for the Austrian Grand Prix, which was certainly entertaining to the last as team rivalries reared their heads. Mercedes boss Toto Wolf was seen to thump the desk in frustration, as his drivers again collided with each other in Austria.
The last lap seen Nico Rosberg being overtaken by Lewis Hamilton with only a few corners to go, this clearly angered Rosberg so instead of being content with a nice one two on the podium, he made a charge going into one of the final corners.
Rosberg took the outside line already occupied by his team mate and pushed Lewis off, doing damage to his own front wing.  To make the situation worse he held the line not letting Lewis return to the track, it wasn't missed by the stewards, who gave him a six second penalty.
It didn't make any difference to the outcome, Lewis went on to win and Nico came home fourth, so his foolish act cost him valuable championship points and a place on the podium.
He now leads Lewis by eleven points, subsequently there's been talk in the Mercedes garage about team orders, we would hate to see it but it may be the only way to keep the drivers apart.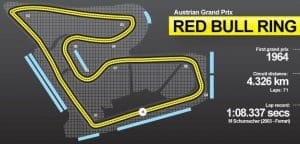 It was a total waste for Nico, as he had driven a brilliant race from six on the grid to leading the race in the last lap, especially with Lewis starting from pole.
Austrian Grand Prix qualifying saw quit a mix up in the starting grid with Nico Hulkenberg second on the grid, the bigger surprise of Jenson Button taking sixth, the third best position McLaren have had for a long time.
Nico Hulkenberg couldn't take advantage of his starting position and was very slow off the line, being passed by Button and Kimi Raikkonen, it would be nice to think it's the start of a comeback for McLaren but its early days.
Felipe Massa, who we thought would do well here, had to start from the pit lane due to a problem with the nose cone.
Daniel Kvyat had a weekend he will probably want to forget, during qualifying he had a rear suspension collapse which did a lot of damage to his car, spinning and finally hitting the barrier which resulted in the complete rebuilding of his car overnight.
We suspect he ran over a quite aggressive kerb at this track, his car only lasted six laps in the race before it was retired.
Sebastian Vettel leading the G.P on lap twenty three blew a rear tyre on a fast part of the track, which seen him hit the Barrier on one side of the track then career backwards to the other.
Vettel was lucky not to be hit by another car, it looks like he may have stayed out too long on the tyres, but catching a kerb just before it blew might have been a factor.
Pascal Wehrlein, the young driver who is driving for Manor, started tenth on the grid which is a very good position for the team. He managed to hold on to that position at the finish to earn a point for the team.
Manor use Mercedes engines but have not been doing great this season, however we think this young man will keep improving.
The brilliant Max Verstappen was leading the G.P in lap sixty, it looked as if his tyres were going away when he was first passed by Rosberg then Hamilton in lap sixty three.
With Rosberg dropping back after hitting Lewis, it gave Max the chance to finish second, an opportunity he seized with both hands.
Austrian Grand Prix Result
Lewis Hamilton.
Max Verstappen.
Kimi Raikkonen.
Nico Rosberg.
Daniel Ricciardo.
Jenson Button.
Romain Grosjean.
Carlos Sainz.
Valtteri Bottas.
Pascal Wehrlein.
To see all of our race previews and round ups, visit our F1 section