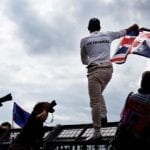 2016 British Grand Prix Review
This weekend Place a Bet Online turned their attention to home soil, with an influx of Formula one fans heading to Silverstone for the British Grand Prix.
The home Grand Prix got under way behind the safety car with teams starting on full wet tyres, it wasn't until lap five before we actually got racing. Being ahead of the pack was a good place for Lewis Hamilton, as all the cars behind were clouded in spray when we finally got going,
Lewis raced ahead and was never really challenged throughout, he did exactly what was required and crossed the line first. Team mate Nico Rosberg ran most of the race in second place, though we think he must have been very surprised to see Max Verstappen going past on the straight.
It took to lap thirty eight for Rosberg to take the position back, which he kept a tight grip on till the chequered flag. That was not the end of the story for Nico though, in the later laps he had a problem with his gear box and was told to miss seventh gear. This being against race rules resulted in Rosberg being hit with a ten second penalty, putting him in third place behind Max.
In F1 terms Verstappen gets paid very little money, but all the big teams are going to want him in the next couple of years. We have said in the past that we think he is another Schumacher, which his displays are going a long way to justify such a bold comparison.
It showed how good a race Lewis ran when fourth placed Ricciardo was a distant 26 seconds behind, Daniel is no slow driver. Raikkonen was next to cross the line a massive 69 seconds down.
It was like a race of two parts, which all came down to tyre changes, when to put on inters and then slicks. Some teams got it bang on and others not so much.
Sebastian Vettel will not be pleased with his race, he pushed a car off on one of the corners, then picked up a penalty. The result was a ninth place 91 seconds adrift of the winner.
Force India had a very good result, with Sergio Perez and Nico Hulkenberg taking sixth and seventh place respectively, giving the team some well-earned points.
Fernando Alonso was lucky with his eleventh finish as he had a big off, he was lucky to re-join the track. Jenson Button had a poor race and as a result finished fourteenth, which israther poor compared to his fourth finish in the last race.
The next race to look forward to is on July 22nd to 24th in Hungary.
2016 British GP Result
Lewis Hamilton.
Max Verstappen.
Nico Rosberg.
Daniel Ricciardo.
Kimi Raikkonen.
Sergio Perez.
Nico Hulkenberg.
Carlos Sainz.
Sebastian Vettel.
Daniel Kvyat
Stats for Silverstone
First G.P: 1948.
G.Ps held: 51.
Laps: 52.
Circuit Length: 3.660 miles.
Race Distance: 190.263.
Direction: Clockwise.
Winners from pole: 17.
Race start U.K: 1pm.
For more F1 news and reviews visit our Formula One page.