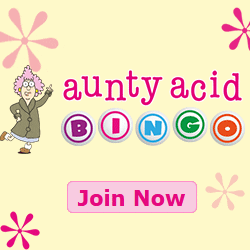 Aunty Acid Bingo Review
Unfortunately, there is no promotional scheme available on Aunty Acid Bingo to assist us in advertising the site. As such we have provided you with an alternative called Boyle Sports Bingo, which is an impressive gaming site offering a great choice for any type of player.
Most of you will be aware of the comedy genius that is Aunty Acid and their daily witticism's, but I bet you didn't know they have an amazing bingo site which we at Place a Bet Online will tell you all Aunty Acid Bingo.
With a fantastic range of bingo, slots, casino and scratch cards you'll have plenty of high quality games to choose from. Added to this is the fact that Aunty Acid Bingo is available on Smart Phone devices including Android, iPhone and Tablet devices. This means that those everyday chores have just got that little bit more exciting and hopefully rewarding if you win a jackpot or two.
Summary of Aunty Acid Bingo offers;
• £15 welcome bonus upon registration,
• 1st deposit cash match bonus 350%,
• 2nd deposit cash match bonus 250%,
• 3rd deposit cash match bonus 300%,
• 20% cashback weekly on any further deposits made,
• 100% cash back on cash deposits,
• £10 for each friend referred,
• Prizes every day on their chat games,
• 100 bingo cards when you like and follow on Facebook and Twitter,
• 500 spins when you subscribe to their blog.
Welcome Bonuses
Great gaming sites always start with a bonus and at Aunty Acid Bingo you get a whopping £15 credit, no deposit required. This is a great way for you to try out the site as you can begin immediately and play on a range of games without spending a penny.
Once the registration bonus is gone then don't be too dismayed because Aunty Acid Bingo offer a fantastic welcome package which totals a whopping 900% over your first 3 deposits.
On the 1st deposit you will receive a 350% cash match bonus, on the 2nd 250% and 300% on the 3rd. This means that if you add the minimum amount of £10 you'll receive £90 over the 3 deposits.
Cashback Bonus
Even when you're an Aunty Acid Bingo regular you'll still receive 20% cash back for all the deposits you make each week. With a minimum deposit of £25, you'll always be a winner on this great site and the more gaming credit the better your chances for that jackpot win.
Regular Offers
Deposit Special – If you prefer to deposit using cash methods such as debit card then this offer will really pique your interest, for any cash deposits you could receive 100% cash match bonus. The percentage varies dependent on the amount deposited, but the minimum percentage given is 25% when you deposit between £0 and £24.99, which we think is incredibly generous.
Refer a Friend Scheme – We know you'll be eager to tell your mates about this great fun site so whilst they're enjoying the £15 credit why not earn a little something yourself? For every referral who registers and deposits you will receive a £10 Amazon voucher as a thank you.
Social Media – If you're a social butterfly then you could earn 100 bingo cards by clicking 'Like' on the Aunty Acid Bingo Facebook page or 'Follow' on Twitter. Both sites will keep you updated on the latest news including games and promotions.
Blog Subscription – Aunty Acid Bingo even have their own blog which if you subscribe you'll not only stay informed but will receive 500 spins.
Chat Games – These are a great way to meet fellow roomies and share the enjoyment of your favourite games. On Aunty Acid Bingo you can play their fantastic chat games and win incredible prizes every single day.
Banking Methods
Aunty Acid Bingo accept the usual banking methods including Debit card, NETeller, U Kash and Paysafe Card.
We know you'll be eager to register and claim your £15 credit, which you can do simply by heading over to Aunty Acid Bingo.