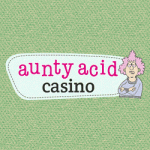 Aunty Acid Casino Review
Unfortunately, there is no promotional scheme available on Aunty Acid Casino to assist us in advertising the site. As such we have provided you with an alternative called Boyle Sports Casino, which is an impressive gaming site offering a great choice for any type of player.
Everyone knows the cheeky old lady that is Aunty Acid, but did you know about Aunty Acid Casino? Well we at Place a Bet Online are here to tell you about this impressive funny site which offers a great range of quality games and bonuses. So if your preference is casino, scratch card and slot games such as Queen of Legends and Plushie Pleasure then this is the place for you!
What makes this site even better is the fact that Aunty Acid Casino is available on your mobile, so you can play when and wherever you like. If you have a smart phone including Android, iPhone or Tablet device then you can play this amazing range of games at any time, whether you're walking the dog or on the bus.
Summary of Aunty Acid Casino offers;
• £10 bonus upon registration, no deposit required,
• Available on mobile and tablets,
• 1st deposit, 100% cash match bonus up to £500,
• 2nd deposit, 100% cash match bonus up to £500,
• Cash reload bonus,
• 10% cash back on slots gaming,
• Weekly slots tournaments,
• £10 Amazon voucher for each friend referred.
Welcome Bonuses
Registering with Auntie Acid Casino is easy and as a welcome you'll receive £10 bonus credit, with no deposit required. This credit is a great way to try out the site and play around on the games and promotions, before parting with any of your own money.
The bonuses don't stop here though because when you're ready to make your 1st deposit you'll receive a 100% cash match bonus up to £500. This amazing bonus means that you'll basically double your money, so if you take advantage and add the £500 then you'll walk away with a whopping £1,000.
Even on the 2nd deposit you'll receive another 100% cash match bonus up to £500. So basically over your first 2 deposits you could receive a maximum £2,000, which we think is plenty of gaming credit.
Reload Bonus
From the 3rd deposit onwards Aunty Acid Casino will give you a cash reload bonus, so if you deposit a minimum of £10 you'll receive a percentage cash back on the amount added which could be up to 100%.
Regular Promotions
For the slot gamers out there how about a 10% cash back on anything you've wagered the previous week? This means that if you play games worth £100 cash, you'll receive £10 back.
Aunty Acid Casino even offer a weekly slots tournament where for a minimum £10 you could win up to £200. Check out the promotions tab and play the slot game relating to that set period, then if you're the champion you'll take away the prize.
Refer a Friend Scheme
We're sure you're eager to tell your friends about this great site so why not earn a little bonus for it? For each friend you refer, Aunty Acid Casino will give you an Amazon voucher worth £10. So the more friends you have the merrier you'll be!!
Banking Methods
They accept the usual banking methods including Debit card, U Kash, Paysafe Card and Neteller.
If you're ready to claim your credit then let us take you through to Aunty Acid Casino.