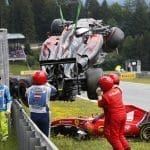 Austrian Grand Prix 2016 Preview
In the last race in Baku, Lewis Hamilton was left frustrated by the rules that stopped his team giving him vital information, the rule states the team cannot give instructions to the drivers to improve the performance of the car while on the track.
Lewis thought it left him in a very dangerous position, it was like a driver looking at his mobile while driving on the motorway, he had to try dozens of combinations and was lucky enough to hit the right one to put him back in a position to score points.
This weekend the attention shifts to Austria, which was won by Nico Rosberg in 2015.  Lewis Hamilton started from pole and lost the race when Nico took the lead into the first corner, staying there for the rest of the race.
A five second time penalty for crossing the white line on the pit exit didn't help his case last year, we are sure this weekend he will not make that mistake again, as he lost the race by a few seconds.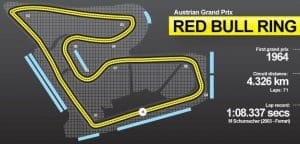 Felipe Massa, one of the most experienced drivers in the circuit, took third last year and it was Williams' second podium of the season. Felipe benefited from a delay changing Sebastian Vettlel's rear tyre which left the Ferrari driver in fourth place, again Vettel has performed well in 2016 and a podium is on the cards for him here in Austria.
Kimi Raikkonen and Fernando Alonso had a nasty accident on turn two on the opening lap, Kimi lost control exiting the corner and hit Fernando, finishing up with Fernando's car on top of Kimi's and in a very dangerous position. The result was a safety car till lap seven but luckily neither driver was injured.
Jenson Button only managed to last for a couple of pit stops before his car lost power and ended his race, not a surprise from McLaren as it's been so long since they have seen a podium, you wonder how the two world champions in the team have remained.
We can see Button retiring and Alonso doing all he can to get out of his contract to look for a new team, only time will tell. McLaren have made strides this year, but not near good enough for drivers of this standard.
Valtteri Bottas and Nico Hulkenberg fought a good race, with Bottas taking fifth and Hulkenberg taking sixth. Pastor Maldonado and Max Verstappen also gave us a good fight, very close at times but Pastor came over the line a second in front of Max, the sort of driving we love to see.
Daniel Ricciardo pitted late and had super soft tyres fitted, which helped him to take tenth place. Sergio Perez took ninth for Force India and had a serious flat spot which caused the car to badly vibrate.
Austrian Grand Prix 2016 Prediction
On to the weekend the Austrian Grand Prix 2016, we expect to see the two Mercedes drivers leading the field but as we have always said in F1 nothing is certain.
We remember not so long ago both Mercedes drivers coming together finishing their race, young guy Max Verstappen took advantage of that and we wish we had a bet on him.
If you want an outside bet, we would put our hard earned on either Vettel or Ricciardo, less likely but still worth an outside bet is Raikkonen or Bottas.
Austrian Grand Prix Stats
Circuit Name: Red Bull Ring.
First G.P: 1970.
G.P's Held: 27.
Laps: 71.
Circuit length: 2.688 miles.
Race Distance: 190.773 miles.
Direction: Clockwise.
Winners from pole: 7.
Race start: 1pm.
Broadcast: Sky Sports F1 only
2015 Austrian Grand Prix Result
Nico Rosberg.
Lewis Hamilton.
Felipe Massa.
Sebastian Vettel.
Valtteri Bottas.
Nico Hulkenberg.
Pastor Maldonado.
Max Verstappen.
Sergio Perez.
Daniel Ricciardo.