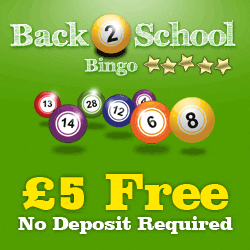 Back2School Bingo Review
Since the 01st November 2014 all gambling sites are required to have a licence with the UK Gambling Commission. Unfortunately we have been informed that Back2School Bingo does not hold the compulsory licence and as such we are unable to promote them. To ensure we maintain a high standard of customer service, we would like to refer you to Boyle Sports Casino who offer an incredible playing experience.
Well the kids are now back at school so why not play a bit of bingo to keep yourself entertained? Place a Bet Online love to bring you the best sites around and we've brought you one with amazing quality games and promotions called Back2School Bingo.
Summary of Back2School Bingo offers;
• £5 bonus upon registration,
• 1st deposit 200% cash match bonus between £10 and £50,
• Recurring deposit of 25% cash match bonus between £10 and £100,
• £10 credit when you refer a friend,
• Loyalty scheme.
Regular Promotions
Back2School Bingo offers fantastic daily, weekly and monthly promotions and is available on smart phone devices including Android, iPhone and Tablet devices.
Welcome Bonuses
As a welcome to Back2School Bingo they will give you £5 credit upon registration as a sort of try before you buy. You can use this credit to play the variety of games on the site and even though it's a bonus it doesn't mean you can't win a jackpot or two.
After you've gamed through the £5 bonus then you'll be pleased to know that Back2School Bingo offer a whopping 200% cash match bonus for your 1st deposit with a minimum deposit of £10 and maximum of £50. If you're top of the class you'll know that this means that by adding £10 on Back2School Bingo they will give you £20 so you have £30 to play with.
Cash Match Bonus
On any further deposits with Back2School Bingo they will give you a 25% recurring cash match bonus on deposits between £10 and £100. So if you add £100 you will receive £25 bingo credits extra, as a way of saying thank you for your loyalty.
Refer a Friend Scheme
If these welcome bonuses aren't great enough then how about a limitless refer a friend scheme where for any friends who register you will get £10 per person in bingo credit. The more gaming friends you have, the more credit you will receive, and remember your friends will get the £5 registration.
Loyalty Scheme
They even offer a loyalty scheme, so the more you deposit the more rewards you earn including additional bonuses and bingo credit.
Banking Methods
Banking methods include the usual Debit card, NETeller, Skrill, Ukash and Paysafe, plus a number of others so we'd recommend you check out the site.
With all of these fantastic promotions and games, we're sure you're ready to register and get your £5 bonus with Back2School Bingo.