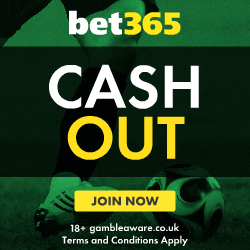 Bet365 Live Streaming and In-play Betting
Are you fed up with watching poor quality live streaming from some obscure site, constantly buffering or a pixelated picture that makes the players look like something from a Commodore 64 game? Is standing in a crowded bar nursing that expensive pint through to half time, because you're short of cash becoming a little tedious.
Do you think Sky just doesn't cover all the sport you want or need? Because let's face it, only a few sports channels can offer a huge range of sport, but with so many football fixtures and sporting events being played worldwide this can be difficult.
Live streaming from bet365
That's where bet365 come in, because they have mastered the art of live streaming and cover a wide variety of sporting events and fixtures from around the world including Basketball, Beach Volleyball, Cricket, Rugby, Football and Tennis; where Sky can only cover a handful of fixtures bet365 covers most of them.
You may be thinking that with all that sport there must be a compromise on the quality available. Well think again, bet365 cover all the top sporting events including Europe's premier football leagues, major league soccer and international qualifiers and competitions.  Bet365 are also proud to bring you all the tennis majors, Cricket international series and virtual football bets.
How do I watch live sports with bet365
What makes bet365 live streaming even better is the fact it's available on all devices. All you need to watch any of bet365's live steaming events, is an active funded sports account and you can enjoy watching the best sporting action anywhere on the net. So why waste time searching though several half decent streams, when you have one of the best at your fingertips.
Bet365 Live Streaming makes the perfect accompaniment to their excellent and legendary In-Play betting. You're now able to watch events progress and the odds shuffle around with every corner, match point or wicket taken.
Simply login to your account, select IN-PLAY on the top banner and choose the event you wish to view. The pictures will display all the latest In-Play markets.