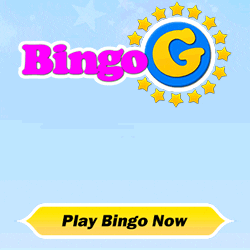 Bingo G Review
Unfortunately, there is no promotional scheme available on Bingo G to assist us in advertising the site. As such we have provided you with an alternative called Boyle Sports Bingo, which is an impressive gaming site offering a great choice for any type of player.
Place a Bet Online bring you an impressive online gaming site called Bingo G. Now we're not sure what the 'G' stands for but we're going to guess it's 'Great', 'Genius' and 'Generous'; but that's just our opinion. If your gaming preference is bingo, casino, scratch cards or slots such as the household names Monkey Business and Queen of Legends then you should defiantly give Bingo G a visit.
What adds to this sites allure is the fact that Bingo G is available on mobile devices including Android, iPhone and Tablets such as Kindle and Hudl. This makes those mundane chores and journeys that little bit more interesting, because you can not only remain entertained but could possibly win a jackpot or two.
Summary on Bingo G offers;
• £15 bonus upon registration, no deposit required,
• 1st deposit, 300% cash match bonus and £30 worth of bingo tickets,
• Reload bonus from 2nd deposit onwards,
• Chat games where you could receive a 200% bonus on your last deposit,
• Refer a friend bonus – 5 bonus points when they validate their account, 100% of their 1st deposit and 10% of deposits made in their first 60 days,
• Loyalty scheme.
Welcome Bonuses
At Bingo G you'll receive £15 with no deposit, simply for registering. They give you this credit as a way for you to try out the site and a number of the games available, before you need to deposit any of your own money.
At the point that you are ready to make your 1st deposit you'll be delighted to hear that you will receive a 300% cash match bonus and £30 worth of bingo tickets. This means that if you add a mere £10, you'll walk away with an extra £30, making a total of a whopping £40! When you add the £30 bingo tickets then you'll have received a bonus worth £70; pretty generous right!
Reload Bonus
When your newbie status is over then you'll be delighted to hear that Bingo G offers a reload bonus from your 2nd deposit onwards. This bonus can be anything up to 450% and is dependent on the amount deposited. We would recommend checking the deposits special page before adding any additional credit to see what you'll get.
Chat Rooms and Games
Bingo G offer amazing chat games and rooms where you can not only meet new friends but could also be in with a chance of receiving a 200% bonus on your last deposit.
Refer a Friend Scheme
Most people like to tell their mates about the great new things in their lives, so why not refer a friend to Bingo G. For each friend you refer you'll receive 5 bingo points the moment they validate their account, and 100% of their 1st deposit. But that's not all, you'll also get 10% of any other deposits they make in the first 60 days; so the more friends you have the merrier you'll be.
Loyalty Scheme
When you register with Bingo G you'll immediately be added to their loyalty scheme. Within the scheme you can earn points simply by playing, and these points can be converted into gaming credit.
Banking Methods
Bingo G accepts the usual banking methods including Debit cards, Click2Pay and Neteller.
So if you're ready to claim your £15 credit, then head on over to Bingo G.