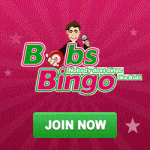 Bobs Bingo Review
Unfortunately there is no promotional scheme available on Bobs Bingo to assist us in advertising the site. As such we have provided you with an alternative called Comfy Bingo, which is an impressive gaming site offering a great choice for any type of player.
Place a Bet Online have heard that 'Nobody does bingo like Bob', so we had to check out Bobs Bingo and their impressive games and bonuses. If your preference is bingo, casino, scratch cards or slots such as Five Pirates or the Hunt then this site is definitely for you.
What adds to their appeal is the fact that you can play a number of their games on your mobile devices. So if you have a smart phone such as an Android, iPhone, Blackberry and Nokia, or a Tablet device then you can game when and wherever you like. The fact that gaming is now portable means that you can keep yourself constantly entertained, so no more boring lunch breaks or commutes to work.
Summary of Bobs Bingo offers;
• £15 bonus upon registration,
• 1st deposit, 500% cash match bonus on a minimum £10,
• 2nd deposit, 350% cash match bonus on a minimum £10,
• 3rd deposit, 300% cash match bonus on a minimum £10,
• Cashback Bonus,
• Deposit special bonus when you bank with cash,
• £10 Amazon voucher for each friend you refer,
• Chat games and rooms,
• 100 bingo tickets when you follow Facebook or Twitter,
• Loyalty programme.
Welcome Bonuses
Only the best sites start with a bonus and that's precisely what you'll get with Bobs Bingo and their welcome bonus. After you've registered you'll receive £15 credit into your account, with no deposit required. This credit is the perfect opportunity for you to get the ball rolling and test drive the site, before adding any of your own money.
The bonuses continue when you're ready to deposit with a whopping 1,150% cash match bonus split over your first 3 deposits. This incredible bonus is subject to a minimum £10 deposit and is broken down as follows;
1st deposit, 500% cash match bonus,
2nd deposit, 350% cash match bonus,
3rd deposit, 300% cash match bonus.
So even if you only add the minimum £10 each time then you'll still walk away with £115, or £145 when you add in the deposited credit.
Cash Back Bonus
Even when you're a confirmed regular you'll be delighted to hear that Bobs Bingo offers a cash back bonus on any credit you deposit. Although there's a minimum £25 requirement you could earn anything up to an incredible 20%, dependent on the amount added.
Deposit Special
These incredible bonuses continue for those of you who prefer banking with cash, because you'll receive a special deposit bonus, which depending on the amount added could be up to 100% casino cash.
Refer a Friend Scheme
We're sure you're already planning on telling your friends about Bobs Bingo but wait, because you could earn a bonus for it. For each friend you refer you could receive a £10 Amazon voucher to use in any way you like. So the more friends you have the merrier you'll be.
Chat Games and Rooms
The best part of online gaming is meeting fellow roomies so make sure you check out their chat rooms. As well as great games you'll also have the chance to win special prizes, so it's a win win!
Social Media
If you're a Facebook or Twitter fan then check out Bobs Bingo pages so you can keep up on the latest games and promotions. Plus if you like or follow either page you'll receive 100 bingo tickets, to use whenever you like.
Loyalty Programme
From the point you register you'll join Bobs Bingo loyalty programme, where to earn points is as simple as playing. These points can be converted into additional gaming credit and used for extra gaming.
Banking Methods
Bobs Bingo accept the usual banking methods including Debit cards, U Kash, Paysafe Card and Neteller.
So if you're ready to meet Bob and claim your £15 credit, then head on over to Bobs Bingo.