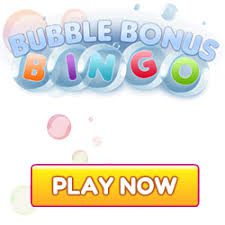 Bubble Bonus Bingo Review
Place a Bet Online bring you details about an amazing new site called Bubble Bonus Bingo, with its bubbly bingo ball graphics, they offer fantastic games and promotions.
Bubble Bonus Bingo is available on your Smartphone and Tablet devices including Android and iPhone, which means you can play anytime and anywhere, so those mundane tasks can now have added excitement and hopefully a jackpot or two.
Summary of Bubble Bonus Bingo Offers;
• £20 after you've made your 1st £5 deposit,
• Regular weekly and monthly promotions including cash back and re-deposit bonuses,
• Refer a friend scheme.
Welcome Bonuses
To get the gaming fun started Bubble Bonus Bingo will give you £20 bonus credit when you make your first £5 deposit. This will give you the chance to try out the large variety of games including bingo, slots and featured games.
As an added welcome after your 1st deposit you'll be invited to their Bubble Pop game where you can turn your £5 deposit into £35 simply by popping the right bubble!
Regular Promotions
Bubble Bonus Bingo value loyal players and as such offer regular bonuses such as cashback, and re-deposit bonuses, which vary each month; so keep an eye out on their promotions page.
Bubble Bonus Bingo even try to cheer up our Mondays by doubling the loyalty points you earn between 4pm and 6pm. Then add in a whopping 100% re-deposit match when you add between £20 and £100 and you'll have plenty of credit to play with!
For those of you who like a challenge each month they set up a series of bingo challenges, which once completed can earn you an extra £20 bonus. Once you've completed a challenge the bubble meter will rise and you will receive your extra credit at the end of the month.
Refer a Friend Scheme
Finally a bonus for those of you with lots of bingo loving friends, how about £10 each time you refer a friend to Bubble Bonus Bingo. This is a limitless offer, so the more friends you refer the more £10's you'll receive!!
We're sure you're ready to register and claim your £20 bonus, which you can do by heading over to Bubble Bonus Bingo.