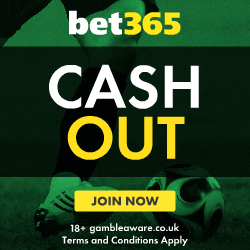 Cash Out Betting with bet365 Close Bet
If like Place a Bet Online you enjoy a good bet, but there are times when you get a bit of a squeaky bum the closer you are to the final whistle; you'll be excited to hear that cash out betting with bet365 sports has arrived. Bet365 Close Bet is now available for the majority of sports betting markets at bet365 desktop and on the mobile app. This includes football, tennis and basketball and we know you're going to love it!
Granted the notion of cash out betting isn't exactly new, as Betfair cash out has been considered the best option for some time. But now Bet365 have crashed the party, as expected from the nation's foremost betting website; its right up there with the best of them.
How do you Cash Out with bet365?
So how does bet365 close bet actually work? If you've placed a bet and are doubting its potential success, you can now chose to close the bet early. So having changed your mind, simply chose to close your bet early and take a reduced payout.
Depending on the bet/potential outcome, you'll either make a nice little profit or a reduced loss on your initial stake. Bet365 also offer partial cash out for qualifying bets.
For bets placed that are eligible for cash out, the option is displayed in the top left of your betting slip. Simply select the option to cash in the full bet, or use the sliding bar to use partial cash out.
The majority of betting types are supported by the bet365 Close Bet cash out method, So regardless of whether you place a single, double, treble, accumulator, lucky 15 or even bet365 virtual football bets; you can quit while your ahead.
What is partial cash out at bet365?
bet365 Partial Cash Out is a fairly straight forward concept. It allows customers to cash out a portion of their bet, whilst maintaining an interest; by letting the remainder of the initial stake stand. You can choose the percentage of the Partial Cash Out, with the offer based on live prices available at the time.
If you have taken advantage of a bet365 promotion or bonus offer, it's worth bearing in that in mind. So if your bet qualifies for a winning bet bonus, the bonus element will be forfeited as part of any decision to close their bet early.
How cash out betting with bet365 calculated?
The amount of cash out offered is dependent on what you choose to bet, as well as the odds at which the bet was placed. For instance, if you bet £10 on Leicester to win the Premier League at 5000/1, the payoff would be bigger than betting £50 on Chelsea at 4/1; with the bet in a winning position going in to April.
Can I get Close Bet on bet365 desktop and mobile?
Close Bet cash out betting with bet365 is available via desktop, tablet, iPad and the market leading bet365 mobile app. It allows bet365 customers to cash in a bet early in-play, which is perfect if your result hangs in the balance.
To take advantage of the new cash out betting method, simply head on over to the bet365 website and place your qualifying bet.