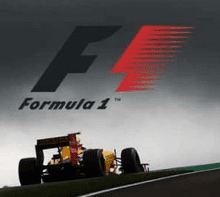 Chinese Grand Prix 2016 Round Up
We at Place a Bet Online have been enthralled by the current F1 season and the Chinese Grand Prix proved to be another action packed race, with Lewis Hamilton wondering what he has to do to get back into this seasons F1.
Firstly he gets a five place penalty for a gearbox problem, then he has to go to the back of the grid after an engine problem. This should have meant that he would have to fight his way through the pack to at least be second or third, something he has done many times in the past.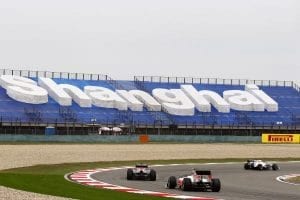 His team told him to take it easy for the first couple of laps, but unfortunately into the first lap a coming together with Felipe Nasr removed his front wing which ended up under the front of the Mercedes. This caused damage to the underside of the car and in his own words "it was like driving a bed from then on". He still battled on and came a decent seventh place even with so many pit stops.
Sebastian Vettel also had big problems in the first lap, a surprise charge up the inside from Daniil Kvyat seemed to startle the Ferrari driver and he pulled left into his team mate Kimi Raikkonen; one of the big if not biggest sins in F1, the result of which was both drivers having to pit to change noses.
Vettel went on to the team radio accusing Kvyat of driving dangerously and approached the young driver in the changing room. We find it strange that a driver like Vettel should accuse any one when he is known for the same sort of driving himself and that it was more of an excuse for hitting his team mate.
Daniel Ricciardo made a blistering start to take the lead from pole sitter Nico Rosberg and it looked as if it could be the chance for this brilliant driver to take his first win. But luck was not on his side when on the third lap he suffered a deflated rear tyre. But he still managed to get back in the race to finish fourth; we see big things ahead for Daniel.
Daniil Kvyat was the big surprise of the race as he goes from strength to strength to take a third place podium here with a very mature race, we expect him to keep it up in his home race in Sochi on the 29th of May.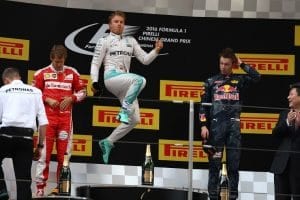 Nico Rosberg must think he is world champion already, with his team mate struggling he is taking the bull by the horns and has now won six in a row including all three races so far this year; a big difference from last season when Lewis dominated the team.
Are we seeing a light at the end of the tunnel for Jenson Button and Fernando Alonso. They finished 12th and 13th, but Alonso was as high as fourth for a good part of the race and Jenson moved up to fifth which indicates a big improvement in the car; it's been a long time since they've seen the front running cars, except when being lapped.
Hass came fourteen and nineteen with drivers Esteban Gutierrez, and Romain Grosjean. They have performed better in the first couple of races, especially with Romain and for a new team they have done a great job so far this season.
Jolyon Parmer the new British driver has not shown the form he did in the first race for Manor. We don't think he is getting the luck at the moment, so lets hope the next race is better for him as we are sure he is a talented driver.
The next race sees us in Russia, with last season's race was won by Lewis and could be again. But we would have to put our money on Nico, you could not bet against him but with this track it could be anyone's race; as Ferrari and Red Bull are right on Mercedes heels.
Stats for China.
G.P held 12.
Laps 57.
Circuit length 3.387 miles.
Race Distance 189.559 miles.
Direction Clockwise.
Winners from pole 7.