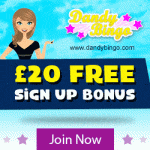 Dandy Bingo Review
Unfortunately, there is no promotional scheme available on Dandy Bingo to assist us in advertising the site. As such we have provided you with an alternative called Boyle Sports Bingo, which is an impressive gaming site offering a great choice for any type of player.
Place a Bet Online bring you a cool and groovy online gaming site called Dandy Bingo, which not only offers a huge choice of quality gaming but also some pretty generous bonuses. So if you're a bingo, casino, instant games or slots gamer then this site has you covered, with household names such as Monkey Business and Queen of Legends.
What adds to the appeal of this site is the fact that you can game on the go, by using your smart phone including Android, iPhone and Tablet devices. This takes gaming into a whole new format and means that you can play bingo when and wherever you like. So the next time you're walking the dog, commuting to work or the rare occasions you get the chance to relax, log in and get winning.
Summary of Dandy Bingo offers;
• £20 bonus upon registration, no deposit required,
• 1st deposit, 350% cash match bonus,
• 2nd deposit, 250% cash match bonus,
• 3rd deposit, 300% cash match bonus,
• 400% reload bonus,
• Deposit special bonus up to 125%,
• Chat rooms and games with a possible 200% bonus,
• Refer a friend bonus,
• Loyalty scheme.
Welcome Bonuses
When you register and deposit with Dandy Bingo you'll receive £20 bonus credit, with no deposit required. This credit gives you the opportunity to really try out the site and their many games, before parting with any of your own money. Because this credit is a bonus why don't you try out something new such as roulette or keno, you never know it might be your new favourite.
The newbie bonuses don't finish there though, because when you're ready to deposit you'll be pleased to hear about their 900% cash match bonus. This bonus is broken down as follows, on a minimum £10 deposit;
1st deposit, 350% cash match bonus,
2nd deposit, 250% cash match bonus,
3rd deposit, 300% cash match bonus.
But what does this mean for you? If you deposit the minimum £10 on each occasion then you'll walk away with a whopping £90 extra, making a grand total of £120.
Reload Bonus
Once you've gamed through the welcome bonuses then you'll be eager to know if there's anymore; of course there is! With Dandy Bingo whenever you add more credit you'll receive a reload bonus on every future deposit. The amount will vary but we recommend you checking the deposits special page before adding anything.
Deposit Special
In addition to the reload bonus there's another bonus for anyone banking with cash methods, which could be anything up to 125% bonus depending on the amount credited.
Chat Games and Rooms
Dandy Bingo believes that part of the fun of online gaming is meeting other roomies, so make sure you check out their chat rooms and you could receive up to 200% of your last deposit as a bonus.
Refer a Friend Scheme
We're sure you're ready to tell your mates about this great site, but wait, why not earn a little bonus for it? For every friend you refer to Dandy Bingo as they enjoy the £20 credit, you'll receive a 100% equivalent of their 1st deposit, plus 10% of any other deposits they make within the first 60 days.
Loyalty Scheme
At the point you register you'll join Dandy Bingos loyalty programme where to earn points is as simple as playing. These points can be converted into gaming credit and the more points you accrue the bigger and better the bonuses you'll receive.
Banking Method
Dandy Bingo accepts the usual banking methods including Debit card, Neteller and Paysafe Card.
To register and claim your £20 bonus, head on over to Dandy Bingo and enjoy!