England World Cup Fixtures
Now that the season has officially come to a close, following yesterday's Championship Playoff and Champions League Finals, all eyes and attention turns to Brazil and the 2014 World Cup. For most of us the focus is on England World Cup Fixtures and whether they will progress from a difficult group.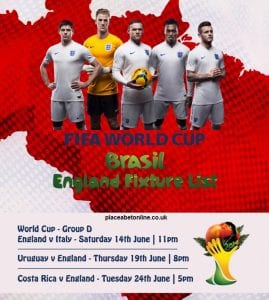 England World Cup Fixtures
England v Italy – June 14 Manaus, 2300
Uruguay v England – June 19 Sao Paulo, 2000

Costa Rica v England – June 24 Belo Horizonte, 1700
England v Italy
England World Cup fixtures begin with a tough tie against a resilient Italian side. Italy had the opportunity to acclimatise and experience the conditions up close last year during the Confederations Cup, so they know what to expect.
An ageing Andrea Pirlo will no doubt be pulling the strings for Italy, along with Daniele De Rossi. But for once England have youth on their side and a group of players who will be hungry and hopefully play without any inhibitions.
I can see this game being tight for the first hour with England's youngsters trying to break down a resolute Italy, but as the game draws on England should have the edge; providing nerves don't get the better of any debutants and sneak a late win.
Our Prediction: England win 2-1 (10/1)
Uruguay v England
By far the most difficult of the England World Cup fixtures, Uruguay posses their most talented squad for quite some time and have the omen of last lifting the glorious trophy, on the only other time Brazil were host.
Luis Suarez is coming off the back of his finest season and is in excellent form. If he recovers from minor knee surgery in time he will no doubt line up alongside Cavani, to form one of the most fearsome strike forces at the World Cup. Plus with La Liga winners and Champions League finalists Godin and Gimenez marshalling the back line, England might just find this too much of a tough nut to crack.
Our Prediction: Uruguay win 3-1 (18/1)
Costa Rica v England
England's hopes of reaching the knock out stages will quite possibly hinge on this fixture. Costa Rica's squad doesn't necessarily hold any household names that strike fear into their opponents, but they shouldn't be underestimated.
They can make life quite difficult for opponents, but the inexperience of player not plying their trade in the worlds toughest leagues could prove costly and lapses in concentration will no doubt prove to be their downfall. Once England can find the net, I'm sure heads will drop and we should be able to coast to victory.
Our Prediction: England win 3-0 (17/2)