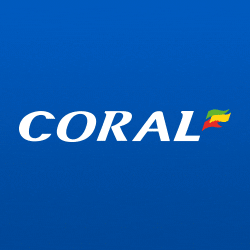 Free Christmas Casino Promotion
This weekend sees the launch of Coral's biggest casino promotion "A Christmas Coral – £200,000 Giveaway".
Throughout December Coral will be giving all of their players the opportunity to take part in their free Christmas casino promotion, where they will be giving away £150,000 in bonuses with an additional £50,000 in daily gifts including; trips to Las Vegas, New York, Rio, Marrakesh, Amsterdam and more. Plus there are also plenty of top gadgets, mini breaks and experiences for some of their lucky players.
From the 1st of December Coral will activate their Christmas Slot. From then on each day for 26 days Coral will have an individual promotion which covers Sports, Casino, Games, Bingo and Poker; with several days including play on mobile.
The free Christmas casino promotion runs alongside their Christmas themed slot, which will be packed full of 26 days' worth of offers including cashbacks, enhanced comp points and much more.
But if that wasn't enough of a giveaway, we've not even got on to how you can win one of the many luxury prizes yet. Coral Customers taking part in the free Christmas casino promotion, also qualify for free entry into their amazing Christmas Daily Draw; with 5 additional top prizes on offer. Additional prizes for each day will be listed when you click into the Christmas Slot and every day Coral will select 5 players at random from the previous day, via their registered email account to tell them they have won one of the fantastic additional prizes on offer.
For your chance to win any of the amazing prizes on offer, simply play Coral's Christmas slot and the more you play the more chances you have to win; so playing every day really can pay off.
A full list of prizes can be found via Coral, but there may have to be occasional changes or replacements from one day to the next if the promoted prize is no longer available. Coral have promised to be sticking to it as closely as they can, with any replacements being of equal value.
Throughout this article we have used the term 'Free' on some of the bonuses. Please be aware that there may be terms and conditions applied or wagering requirements, should you wish to remove winning funds.