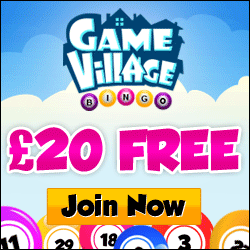 Game Village Bingo Review
Unfortunately, there is no promotional scheme available on Game Village Bingo to assist us in advertising the site. As such we have provided you with an alternative called Boyle Sports Bingo, which is an impressive gaming site offering a great choice for any type of player.
Whoever said 'it takes a village' must have known about Game Village Bingo and their incredible bonuses and range of games. If like Place a Bet Online you're a fan of bingo, casino, scratch cards and slots such as Kittenball and Tutti Frutti, then we know this is the site for you.
The fact that Game Village Bingo is available on your mobile can only add to their appeal, because it means you can play when and wherever you like. So if it's waiting for an appointment or simply walking the dog, if you have a smart phone such as an iPhone and Android or Tablet device then the entertainment will never end.
Summary of Game Village Bingo offers;
• 1st deposit, 400% cash match bonus on minimum £10,
• Spin the fortune wheel and win a prize,
• Available on your mobile,
• 2nd deposit 200% cash match bonus on minimum £10,
• 3rd deposit 300% cash match bonus on minimum £10,
• Refer a friend bonus where you both could receive £25,
• Regular weekly and monthly promotions,
• Plenty of extra credit including Text Club, Facebook Likes and Birthday Treat.
Welcome Bonuses
Registering is easy and when you make your 1st deposit you'll receive a whopping 400% cash match bonus. To give you an idea of what this means for you, if you add £10 then you'll receive £40 making a total of £50 to game with. Not only will this credit give you the opportunity to really play around on the site, but it will also increase your chances of a jackpot win.
On top of the cash match bonus you'll have the opportunity to spin the fortune wheel, where you're guaranteed to win an extra prize.
The extra credit continues on your 2nd and 3rd deposits, where you'll receive the following cash match bonuses on a minimum £10;
2nd deposit, 200% cash match bonus,
3rd deposit 300% cash match bonus.
So on your first 3 deposits you could walk away with £90 bonus (on the minimum £10), amazing right!
Refer a Friend Scheme
We're sure you're eager to tell your gaming friends about this great site, so they can take advantage of the amazing welcome bonuses. But what if we told you that when they register and make their 1st deposit, both of you will receive £25. Then every week your friend makes a deposit, on the Friday you'll receive £1 bonus and the chance to win the Refer a Friend Progressive Jackpot every month.
Regular Promotions
Game Village Bingo offers regular monthly and weekly promotions such as Mine's a Treble, Penny Pincher, Top of the Slots, One Two Three, 50 Ball Bingo and Seaside Bingo.
Other offers include;
Text Club – Where if you give Game Village Bingo your mobile number you'll receive a £2 gift.
Birthday Treat – Everyone deserves a treat for their birthday and that's what you get at Game Village Bingo. You'll receive £5 bonus credit if you deposit in your birthday month.
Facebook Likes – If you're a social media fan then make sure you check out their Facebook page, and if you click 'Like' you'll receive £3 to use on additional gaming.
Banking Methods
They accept the usual banking methods including Debit cards, Paysafe Card, Neteller and U Kash.
To register and claim your welcome bonuses, simply head on over to Game Village Bingo.