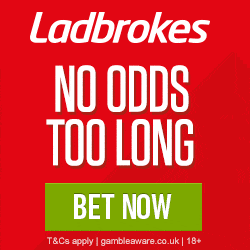 Gary Neville Valencia Betting Special
Since the shocking news that Gary Neville is to take charge of Valencia until the end of the season, there has been a flurry of betting activity but from our intensive research we've found some interesting Gary Neville Valencia betting specials, including 80/1 to win the Champions League as Valencia manager.
Bookies like Ladbrokes have been quick to pounce on the Gary Neville betting market and come up with a series of specials in response to the news that he is to take over as head coach with Valencia, with even money being offered for him to still be there to oversee the last game of the season,
If you are one of many who think that Neville could well lead Valencia to the La Liga title during his time at the Mestalla can take advantage of a massive 66/1, but to do that he may need to improve his squad and Neville is a slightly shorter 33/1 to raid Old Trafford for reinforcements in January.
Looking further in to the future, it appears Valencia's faith may have inadvertently improved Neville's chances of landing the England hot seat when it becomes vacant, with Gary being just 2/1 to take over when Roy Hodgson steps down or is relieved of his duties.
Alex Donohue of Ladbrokes said: "Whatever happens to Neville during his tenure in Spain it looks like this appointment is a stepping stone to England and possibly United too. We're anticipating record-breaking levels of betting interest in his first game in the dugout."
Latest Gary Neville Valencia Betting
Win Champions League with Valencia 80/1
Win La Liga with Valencia 66/1
Beat Man United in competitive game 33/1
Sign any Manchester United player before September 1st 2016 evens
Be head Valencia coach for last match of season evens
Gary Neville to be the next England manager 2/1
Gary Neville to manage Real Madrid or Barcelona 16/1
Gary Neville to manage Manchester United 4/1
Gary Neville to win FIFA coach of the year 2016 20/1
Valencia to qualify for Champions League 2016/17 4/1
With all the fuss over Neville's move to Spain, there is one question that needs to be answered, who will replace him at sky sports?
Redknapp & Henry in pole position to replace Neville
Unsurprisingly Jamie Redknapp is the clear and obvious favourite to replace Gary Neville on Monday Night Football, but he's not the only front runner, the bookies are under the impression it's a two horse race to replace the Monday night master tactician with Thierry Henry just behind Redknapp (6/4) in the odds at 7/4.
Obviously there are more pundits than just Redknapp and Henry in running and capable of filling his shoes for the remainder of the season if not permanently, Roy Keane and Frank Lampard are the next two names in the odds pecking order with Chris Kamara, the face of Ladbrokes, being thrown in at 12/1.
Despite currently being a coach at Valencia, Gary's brother Phil is also a name on the list of potential replacements, though it appears he will aid Gary at the Mestalla.
Our Ladbrokes connection said: "The early betting suggests Sky favourites Redknapp & Henry will go head to head to replace Neville. At longer odds, we'll be keeping an eye out for bets on Scholes and Lampard too."
Who will replace Gary Neville on Monday Night Football?
Jamie Redknapp 6/4 – Theirry Henry 7/4
Roy Keane 8/1 – Frank Lampard 9/1
Chris Kamara 12/1 – Paul Scholes 16/1
Paul Merson 16/1 – Graeme Souness 20/1
Michael Owen 25/1 – Phil Neville 25/1
Harry Redknapp 33/1 – Craig Bellamy 33/1
Robbie Savage 33/1 – Andy Gray 100/1