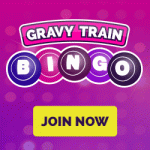 Gravy Train Bingo Review
Unfortunately, there is no promotional scheme available on Gravy Train Bingo to assist us in advertising the site. As such we have provided you with an alternative called Boyle Sports Bingo, which is an impressive gaming site offering a great choice for any type of player.
Gravy Train Bingo tell us that they're the home of cash back, so we at Place a Bet Online were eager to check them out. With colourful pages, amazing bonuses and high quality gaming such as bingo, casino, scratch cards and slots including house hold names such as Kitten Ball and Monkey Business this is definitely the place to be.
What adds to Gravy Train Bingos appeal is the fact that you can game when and wherever you like, because they offer a number of games on you mobile. So if you have a smart phone such as an Android, iPhone or a Tablet device then your walk to work or lunchtime just got that bit more entertaining.
Summary of Gravy Train Bingo offers;
• £15 bonus upon registration, no deposit required,
• 1st deposit 350% cash match bonus on a minimum of £10,
• 2nd deposit 250% cash match bonus on a minimum of £10,
• 3rd deposit 300% cash match bonus on a minimum of £10,
• 20% weekly re-deposit bonus on a minimum £25,
• Deposit special when banking with cash up to 100%,
• £10 Amazon voucher for each friend you refer,
• Regular jackpots between £250 and £1,000,
• Chat rooms with games and amazing prizes,
• Available on Facebook and Twitter to keep up to date on latest games and promotions,
• Loyalty scheme.
Welcome Bonuses
The best place to start is with a bonus and that's exactly what you get with Gravy Train Bingo. After you register you'll receive £15 credit with no deposit required. This credit will give you the opportunity to play around on the site, and try out their huge variety of games and regular promotions.
Once the registration bonus is gone then you'll be ready to deposit, so wait till we tell you that Gravy Train Bingo will give you a whopping 900% cash match bonus on your first 3 deposits. You only need to add £10 on each occasion, but you'll walk away with the following;
1st deposit 350% cash match bonus,
2nd deposit 250% cash match bonus,
3rd deposit 300% cash match bonus.
What this means for you is an extra £90, which when added to your deposited credit will total £120; plenty of credit for you to game with.
Redeposit Bonus
When you're a regular on Gravy Train Bingo you'll be delighted to hear that for any future deposits you make you'll receive a 20% deposit bonus paid on a weekly basis. If you add a minimum of £25 that week then you'll receive this impressive bonus straight into your bingo account.
Deposit Special
If you prefer to bank with cash then you can take advantage of their deposit special, where you could receive up to 100% cash back bonus each month, depending on the amount you deposit.
Refer a Friend Bonus
Most of us like to tell our friends about the great new things in our lives, so why not tell them about Gravy Train Bingo. For each person you refer who deposits you'll receive a £10 Amazon voucher, so the more friends you have the merrier you'll be!
Chat Rooms and Games
Gravy Train Bingo offer a number of jackpot prizes on a daily, weekly and monthly basis with a chance to win between £250 and £1,000 cash. They even offer chat rooms with amazing games where you could win cash prizes and meet fellow roomies.
Social Media Pages
If you're a social media fan and like to keep up on Facebook and Twitter, then check out The Gravy Train Bingo pages. If you like or follow either page you can not only keep up on the latest and greatest games and promotions, but also exclusive prizes.
Loyalty Scheme
At the point you register and play with Gravy Train Bingo you'll join their loyalty programme, where to earn points is as simple as playing. There is 4 tiers in the scheme which are silver, gold, VIP and SVIP member, with each level offering bigger and better bonuses.
Banking Methods
Gravy Train Bingo accept the usual banking methods including Debit cards, U Kash, Neteller and Paysafe Card.
So if you're ready to ride the gravy train and claim your £15 credit, then head on over to Gravy Train Bingo.