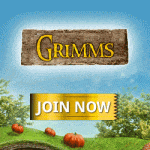 Grimms Review
Unfortunately, there is no promotional scheme available on Grimms to assist us in advertising the site. As such we have provided you with an alternative called Boyle Sports Bingo, which is an impressive gaming site offering a great choice for any type of player.
Grimms is a gaming site based on the Brothers Grimm Folk Tales and offers impressive welcome and regular bonuses. Place a Bet Online bring you this Nordic styled site due to its high quality range of games including bingo, casino, scratch cards and slots such as Plushie Pleasure and Queen of Legends; which we know will keep you entertained for hours.
We're sure you're wondering how you'll fit in so much gaming? Well that's easy, you play on your mobile. Grimm is available on your smart phone including Android, iPhones and Tablet devices so you can now play when and wherever you like. This means that most of your day to day activities can have the added excitement of a slot or bingo game, so the next time you're taking the dog for a walk, remember to grab your phone.
Summary of Grimms offers;
• £10 bonus when you register, no deposit required,
• Available on your mobile and tablet devices,
• 1st deposit, 350% cash match bonus on a minimum £10,
• 2nd deposit, 250% cash match bonus on a minimum £10,
• 3rd deposit, 300% cash match bonus on a minimum £10,
• From 4th deposit onwards cash back dependent on amount deposited,
• Deposit special when banking with cash,
• Regular guaranteed jackpots,
• Amazing chat rooms and games,
• Join Facebook and Twitter pages for 100 bingo cards,
• VIP Club.
Welcome Bonuses
Getting started with Grimms is really simple because after you add your details, you'll receive £10 credit into your account with no deposit required. This means you can get the ball rolling and play a number of games straight away. It also gives you the perfect opportunity to try out the site to make sure it's right for you, before adding any of your own money.
At the point you're ready to deposit you'll be pleased to hear that Grimms offers a 900% cash match bonus on your first 3 deposits. This bonus is based on a minimum £10 deposit and is split as follows;
1st deposit, 350% cash match bonus,
2nd deposit, 250% cash match bonus,
3rd deposit, 300% cash match bonus.
So basically if you deposit the minimum £10 each time you'll receive an extra £90, or £120 in total. On your 1st deposit you'll receive 300 bingo cards from Grimms which you can use whenever you like.
Redeposit Bonus
Grimm like to thank their loyal players by offering redeposit bonuses, dependent on the amount that you add to your account. To give you an idea what this could mean, if you add between £25 to £50 you'll receive 5% cash back, each and every time. So make sure you check out the deposit specials tab before you add any more money.
Deposit Specials
For those of you who prefer banking with cash you can take advantage of Grimms deposit special, with bonuses depending on the amount deposited.
Regular Bonuses
They have daily, weekly and monthly guaranteed jackpots in their Daily Jackpot Lounge, Mega Jackpot and Super Jackpot bingo rooms where you have a chance to win £250, £500 and £1000 cash. Plus great chat rooms and games where you can meet new people and win extra prizes.
Social Media Pages
For the social butterflies make sure you check out Grimms Facebook and Twitter pages, so you can keep up on the latest games and promotions. Plus if you 'Like' or 'Follow' either page you'll receive 100 bingo cards to use as you like.
VIP Club
Grimms offer a VIP Club to reward their players for their loyalty, so if you deposit £750 in a month you'll receive amazing cash back and gift certificates, plus club privileges.
Banking Methods
They accept the usual banking methods including Debit card, U Kash, Paysafe Card and Neteller.
So if you're ready for some mythical fun in your life, then head on over to Grimms!