Guide to How Wagering Requirements Work
Every casino or slot site you land on seems to be offering something for free, whether it's bonus credit or spins; so, it would make sense to register and grab that promotion. But it's true when they say that nothing in life is free, because attached to those freebies are terms and conditions, more specifically wagering requirements. If the term wagering requirements is one you've never come across before, or you've heard of it but you don't understand what it means, then here is our guide to how wagering requirements work.
If you are already registered with a casino, slot or bingo site then don't worry, because pretty much all online gaming sites use the same system. So even if you were to move to another one, then you'll find the process is the same. The biggest change is how much of a multiplier is added to the bonus, which can average between 35x and 75x.
Finding Wagering Requirement Information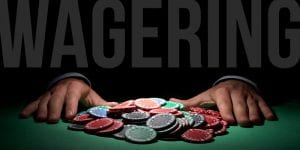 Finding terms and conditions is far easier than it use to be thanks to the UK Gambling Commission. They introduced regulations that meant all gambling sites had to disclose basic terms and conditions on any imagery promoting a bonus. Also, that the sites had to provide full information on their terms and conditions and it could be easily found.
This is why when you see images on most online casino sites it will state the multiplier at the bottom. But also, if you head to the bottom of the site there should be a link for terms and conditions. Whether you read through it all is up to you because it can be quite mind numbing. But the priority is that it is there should you need it, and you have the information before accepting any new or regular promotional offers.
What are Wagering Requirements?
We've already thrown a lot of information at you, so you'd be forgiven for feeling a little confused. Whether you are new to slots and casino or you've been playing for a while, we think our guide will explain wagering requirements to you.
You will find wagering requirements when you look at a welcome bonus or regular promotion on a gaming site. Should you choose to play on a site without taking the bonus, then there will be no conditions attached.
The majority of bonuses will be percentage based, or as it's known 'cash match bonuses'. This means that if the bonus was 100% cash match and you have added £10 credit, then you would receive £10 credit completely free; totalling £20 to game with. There is also usually a low minimum deposit amount to trigger these bonuses.
Should you win from any of the credit you added or were given for free, then this is when the wagering requirements would kick in. You would not be able to withdraw any winnings from the site until you credited your account with the required amount of money. Wagering requirements are shown as a multiplier, for example 40x or 65x. Say you receive an extra £10 in bonus credit and the wagering requirement was 65x, then it would be 65 x 10 which would make £650. This basically means that you need to credit your account with £650 and wager/or play through that amount on the games you love, before you can remove any winnings from the casino.
If the bonus you received was free spins, then the wagering requirement will be worked out against any winnings you receive from those spins. It will be in exactly the same way as mentioned above, but could be a lot more and unlike the cash match you don't have the ability to choose the amount (because it's potluck) so you won't know what the wagering requirement will be.
Most sites will have a calculator in the account section which will show the player how much they have left of the wagering requirement. It's a great way to keep yourself knowledgeable and informed.
For those of you who do win and are concerned about what will happen to it during the wagering period, then don't worry. This amount is retained within a pending balance account and although you cannot withdraw from that account, you can use those funds to work through the wagering requirement.
After the wagering element had been reached then all remaining funds are moved from the pending area to the main wallet and you can choose to continue gaming or withdraw.
Why do we have Playthrough Requirements?
As you can imagine the casino has to protect themselves from players who would simply use the site for free credit. If there wasn't any wagering, then you could claim the bonus credit and remove it or any winnings straight away. Then if lots of other players chose to do the same the casino probably wouldn't last for long. With wagering you have to stay with the site for a period of time until you reach the required limit. This will not only mean that you'll have added more credit to the casino, but you may decide you like them and become a regular player.
As well as the benefit for the casino, there is also a legal reason for wagering requirements. Money laundering can be a big problem for online gambling sites, so they have to complete stringent checks when a player registers. Especially if the amount the player has credited is larger than average.
Should I Bother with Wagering Requirements?
This is a difficult question to answer, because really the decision is up to you. You should consider some points though;
Do you intend to stay and play on that site for a period of time?
Do you have the funds to fulfil the playthrough requirements, should you wish to remove any winnings? If you were to add £100 bonus on 100% cash match and the wagering was 65x, then you would need to play through £6,500 which is a huge amount of money for pretty much £100 in free credit.
Whether you feel the bonus you will receive is worth the multiplier attached to it?
A large majority of the sites will give you the option of whether you want the bonuses or not, especially the welcome bonus. This means you could simply play on the site using credit you have added, rather than being tied to their terms and conditions.
If your intention is staying with the casino or slot site long term, then the fact that you have to credit so much may not be an issue. Plus, if you were lucky enough to win then you may actually work through the multiplier amount at a faster speed. Again, it's going to be down to your preference, but take a look at the terms and conditions because the multiplier may be at the lower end of the scale and as such you pay it off quicker.
Game Weighting and Wagering
One other thing you will need to be aware of should you choose to go ahead with the bonus and that is the affect of game weighting. The games you play online will all have different weightings, this means that the stake you put on one game may reduce your wagering requirement more than another game and others may only have a percentage contribution. This will vary depending on the gaming site, so again it is wise to look at the terms and conditions because many sites have a list of the games and which of them offer the most efficient way to fulfil your wagering requirements. There will be welcome offers or promotions that can make this a little more difficult and they are ones which specify the games you have to play. For example, you may get 30 bonus spins for Gonzo's Quest. It tends to be casino games such as roulette or blackjack which offer the lower-than-average weighting. But slot games can vary on each game as well, so your favourite one may not be the best way to reduce the wagering requirement the quickest.
If we've done our job right then hopefully you will understand more about what wagering requirements are, how they work and how to work out the cost. Our last bit of advice is look around at different casino or slot sites and weigh up how good the welcome bonus is, against the long term pay back of the wagering.