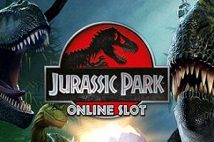 Jurassic Park Online Slot
Now try to imagine yourself in the Cretaceous Period, watching Pterodactyl's soar over head as the majestic Gallimimus roam the plains, making sure you steer clear of the infamous T-Rex. Welcome – to Jurassic Park online slot.
Jurassic Park Online Slot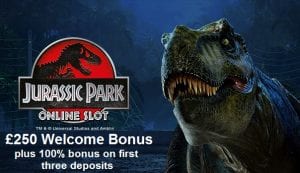 The latest slot game is really something you can sink your teeth into, as Jurassic Park online slot roars into action this August.
Jurassic Park Online Slot launches on 6th August 2014, based on the Academy Award-winning film. The Jurassic Park Online Slot boasts supreme audio and trailblazing visual features, such as parallax scrolling making players feel totally immersed in the game.
As they traverse the jungle, prehistoric creatures come alive in stunning 3D detail backed by sounds of the jungle.
Since entry into the Park is granted with a minimum bet of just 0.30 and wins up to 95 000.00, everything else is dwarfed in comparison.