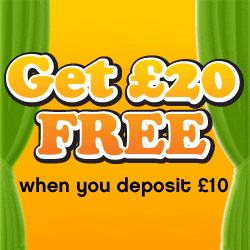 Little Big Bingo Review
Unfortunately, there is no promotional scheme available on Little Big Bingo to assist us in advertising the site. As such we have provided you with an alternative called Boyle Sports Casino, which is an impressive gaming site offering a great choice for any type of player.
Place a Bet Online have found a site where spending a little to win big is the norm, so when you add in generous bonuses and high quality gaming then Little Big Bingo is the place to be. With a great choice of games and plenty of promotions we're sure that this will soon become a firm favourite for every bingo fan!
Summary of Little Big Bingo offers;
• 1st deposit 200% cash match bonus on minimum £10,
• 50% re-deposit bonus on any additional deposits between £10 and £500,
• Available on Facebook for the latest games and promotions,
• Regular amazing promotions,
• 5,000 penny points for each friend you refer.
Welcome Bonuses
The bonuses begin at the point of registration where on your 1st deposit, you'll receive a 200% cash match bonus. This basically means that for adding a mere £10 you'll receive £20, making a grand total of £30. This credit not only gives you a chance to try out the site but it will increase your chances of winning a jackpot prize, which can only be a good thing.
Redeposit Bonus
From your 2nd deposit onwards you can look forward to Little Big Bingos whopping 50% redeposit bonus between £10 and £500. So if you take advantage of the maximum amount and add £500, you'll walk away with an impressive £250 extra and that's available every single time you deposit!
Social Media Pages
If you're a Facebook fan then make sure you check out the Little Big Bingo page, where you can keep up to date on the latest games and promotions.
Regular Promotions
You can see that Little Big Bingo are pretty generous, so make sure you check out their regular promotions which include;
The Biggie Bonus – Every week you could win a share of £1,000 big bonus points.
Daily Delight – With an amazing £100 jackpot every night at 9pm and tickets only costing 5p each, why aren't you already playing!
Little Beauty – Every Friday at 10pm play for Little Big Bingo's £500 jackpot, with tickets only costing 10p.
Big Dreamer – With cards only costing 20p and a guaranteed jackpot of £1,000, make sure you play the last Saturday of every month.
Penny Points
When you play Little Big Bingo you will earn Penny Points simply by playing games, winning chat games and tournaments. The penny points can be converted into purchasing bingo cards, so the more you play the more bonuses you'll get.
Refer a Friend Scheme
Little Big Bingo even offer a scheme where you'll earn bonus points simply for tell your mates about this great site. For each friend you refer who deposits you'll receive 5,000 penny points and as this is an unlimited bonus the more friends the merrier.
Banking Methods
They accept the usual banking methods such as Debit card, Entropay, U Kash, Neteller and Paysafe Card.
We're sure you're ready to get going, so head on over to Little Big Bingo.