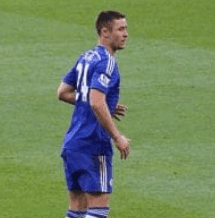 Liverpool to Make Surprise Move for Top International Defender
This has come completely out of the blue but it appears Gary Cahill is considering his future at Chelsea, with Liverpool currently favourites to sign Chelsea's Gary Cahill; according to Ladbrokes. The Reds are 7/2 with the bookmakers to snatch the England International, who would also be an option for Everton and Man United at 7/1.
Cahill has been a mainstay for the Stamford Bridge outfit since his arrival from Bolton 2012, also earning the majority of his 40 England caps during that period. But for breaking his jaw prior to Euro 2012 that tally would be higher.
The 30 year old appears determined not to let lightning strike twice by missing out on another International tournament. Having made just three appearances for Chelsea since 31st October 2015, with the Euro's in the back of every players mind it is essential Cahill gets more game time in order to not fall out of favour or be replaced in Hodgson's starting eleven.
Should Liverpool decide against making a move for the experienced international he certainly won't be short of options. Cahill would fit perfectly into Stoke City's new footballing philosophy and is just 8/1 to move to the Britannia. There are also several teams who could certainly utilise his skills to shore up their leaky defences, including Aston Villa, Newcastle and Sunderland, all of whom are being offered at 10/1.
With confirmation only occuring today about their desire to sign defensive reinforcements, through and approach to sign Joel Matip from Schalke. We would imagine that Liverpool would be the sensible and obvious destination.
Richard Marsh of Ladbrokes News said: "With Euro 2016 on the horizon, Gary Cahill is urgently seeking first-team football and the betting suggests a move to defensively suspect Liverpool will suit both player and club."
Latest Cahill Transfer Odds:
Liverpool 7/2 – Everton 7/1 – Man United 7/1
Stoke 8/1 – Aston Villa 10/1 – Newcastle 10/1
Sunderland 10/1 – Arsenal 12/1
It has to be pointed out though, that with Chelsea still desperately trying to recover some dignity from their poor season, they may be reluctant to let a player with as much experience as Cahill leave Stamford Bridge without a fight.