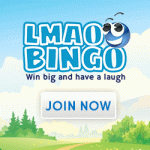 LMAO Bingo Review
Unfortunately, there is no promotional scheme available on LMAO Bingo to assist us in advertising the site. As such we have provided you with an alternative called Boyle Sports Bingo, which is an impressive gaming site offering a great choice for any type of player.
Place a Bet Online know that part of the fun of online gaming is having a laugh and meeting new friends or roomies, so when we saw LMAO Bingo we knew we were in for a winner. With a great choice of quality gaming such as bingo, casino, scratch cards and slots, plus impressive bonuses we're sure you'll be laughing yourself silly.
The chuckles don't stop when you leave the house though because LMAO Bingo is available on your smart phone including Android, iPhone and Tablet devices. So move away from the laptop and win amazing jackpots whether you're walking the dog, or having a bit of me time soaking on the bath.
Summary of LMAO Bingo offers;
• £15 bonus upon registration, no deposit required,
• 1st deposit, 350% cash match bonus on a minimum £10,
• 2nd deposit, 250% cash match bonus on a minimum £10,
• 3rd deposit, 300% cash match bonus on a minimum £10,
• Cash back bonus from the 4th deposit onwards,
• Deposit special bonus,
• Regular guaranteed jackpots,
• Chat rooms and games,
• £10 Amazon voucher for each friend you refer,
• Like or Follow Facebook and Twitter for 100 bingo cards.
Welcome Bonuses
The best place to start is with a bonus and that's exactly what you'll get when you register with LMAO Bingo. As a welcome from the site you'll receive £15 into your account so you can start gaming straight away, plus it gives you the best opportunity to really play around before you deposit.
Don't be too sad once you've played through the welcome bonuses, because at the point you're ready to deposit you'll receive a 900% cash match bonus over your first 3 deposits. On a minimum £10 deposit you'll receive the following bonuses;
1st deposit, 350% cash match bonus,
2nd deposit, 250% cash match bonus,
3rd deposit, 300% cash match bonus.
So for a mere £10 on each deposit you'll walk away with an extra £90, making a grand total of £120 which is plenty to keep you playing for hours.
Redeposit Bonus
From the 4th deposit onwards LMAO Bingo will give you a redeposit bonus, which will be a percentage of the amount you add. So no matter if you win or lose you'll always receive a little something from LMAO Bingo.
Deposit Special
For those of you who prefer banking with cash then check out their deposit special page, where like the cash back bonus, depending on the amount you deposit you'll receive extra credit.
Regular Promotions
LMAO Bingo have daily, weekly and monthly guaranteed jackpots in their Daily Jackpot Lounge, Mega Jackpot and Super Jackpot bingo rooms where you have a chance to win £250, £500 and £1000 cash.
Chat Rooms and Games
They also believe that the best part of online gaming is meeting fellow roomies, so check out their chat rooms and games where you can win extra exciting prizes.
Refer a Friend Scheme
Most people like to tell their mates about the great things in their lives such as a new restaurant or book, so why not a great bingo site. For each friend you refer who deposits, you'll receive a £10 Amazon voucher which you can use on anything you like. So if you have lots of gaming friends then you could earn a lot of extra bonuses.
Social Media Pages
If you're a Facebook or Twitter fan then make sure you check out the LMAO pages, so you can keep up to date on their latest games and promotions. If you like or follow either page then you'll receive 100 bingo tickets to use whenever you like.
Banking Methods
LMAO Bingo accept the usual banking methods including Debit cards, U Kash, Paysafe Card and Neteller.
So if you're ready for a giggle and amazing bonuses, then head on over to LMAO Bingo and enjoy the £15 credit.