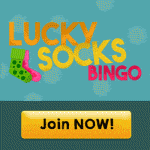 Lucky Socks Bingo Review
Unfortunately there is no promotional scheme available on Lucky Socks Bingo to assist us in advertising the site. As such we have provided you with an alternative called Boyle Sports Bingo, which is an impressive gaming site offering a great choice for any type of player.
Most bingo players have something lucky they keep by their side, as they play their favourite online sites. So it wasn't a surprise to Place a Bet Online that a new site called Lucky Socks Bingo has been introduced, through the ever growing Cozy Games; but will their socks be lucky for you?
This colourful and cutesy gaming site offers some originality from other Cozy sites, but you'll still enjoy the familiar themes we've come to know and love. As you can imagine Lucky Socks Bingo is available on mobile devices, including Android, iPhone and Tablets. Remember this the next time you're bored in a queue or waiting for an appointment.
As well as the usual 30, 75, 80 and 90 ball bingo, you can also enjoy tournaments and slots such as Mystic Wilds, Lucky Clover and Honey Bees.
Summary of Lucky Socks Bingo offers;
• £10 credit when you register,
• 1st deposit, 500% cash match bonus on a minimum £10,
• 2nd deposit, 350% cash match bonus on a minimum £10,
• 3rd deposit, 300% cash match bonus on a minimum £10,
• Pair of lucky socks,
• Available on mobile and tablet devices,
• Cash back and deposit special bonuses,
• £10 Amazon shopping voucher for every friend you refer who deposits,
• Loyalty Scheme,
• Chat games,
• 50 bingo cards when you join Facebook and Twitter.
Welcome Bonuses
Your luck starts from the moment you register, because Lucky Socks Bingo will give you £10 bonus credit. There's no catch, it's as simple as adding your details and it's instantly yours to try out the site and its many games.
There's even newbie bonus boosters when you make your first three deposits of a minimum £10, which total a whopping 1,150%. The bonuses available are;
1st deposit, 500% cash match bonus,
2nd deposit, 350% cash match bonus,
3rd deposit, 300% cash match bonus.
Lucky Socks Bingo go that extra mile, because once you've registered and deposited you'll receive your very own pair of lucky socks. Now we don't know whether the luck comes from fairies or elves, but either way who wouldn't want them?
Cash Back Bonuses
Unlike many other sites Lucky Socks Bingo like to keep the extras coming, with their cash back bonuses. Depending on the amount of credit you add, you could receive between 5 and 20% each and every time you deposit!
Deposit Special
There's also a deposit special which is available for those of you who prefer to bank with cash.
Refer a Friend Bonus
If you're not already telling your mates about the bonuses and socks, then let us convince you why you should. For every friend you refer who deposits, you'll receive a £10 Amazon shopping voucher to use in whichever way you choose.
Loyalty Scheme
As a way of thanking their regular players, Lucky Socks Bingo offers a loyalty scheme where simply by playing your favourite games, you'll earn points. There are 4 levels to the scheme Silver, Gold, VIP and SVIP, each offering bigger and better bonuses.
Chat Games
It's not a great game of bingo without celebrating with other roomies, so make sure you check out the Lucky Socks Bingo chat games. The friendly chat hosts will keep the fun going and who knows what you could win!
Facebook and Twitter Pages
For the social media junkies out there, make sure you check out the Lucky Socks Bingo pages for the latest news and promotions. If you like or follow either page, you can then have the opportunity of receiving 50 bingo cards.
Customer Support
Should you need to contact the site, you can do so via email, live chat or by calling them. They are available 24/7 and as such should respond to your query as soon as possible.
Banking Methods
They accept the usual banking methods including debit cards, Neteller, Skrill and Paysafe Cards.
So whilst you're waiting for delivery of your very own lucky socks, you may need to grab a pair of old ones; then settle on the couch and head over to the incredible Lucky Socks Bingo.