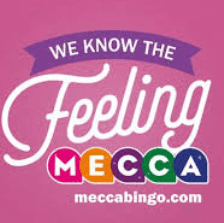 Mecca Bingo Review
There's not many people who haven't heard of Mecca Bingo, which is why Place a Bet Online are eager to tell you why this bingo institution has lasted 70 years. The care they show for their players is apparent through the many promotions, extensive customer support and their community page; which gives us nice little extras.
Mecca bingo offers high quality bingo, including 90 ball, 80 ball, 75 ball and special bingo. There's also featured slots, jackpots and casino games with many online favourites such as Rainbow Riches and Mega Moolah.
To enhance your experience you'll be delighted to hear that by downloading Mecca Apps, you can play on your iPhone, iPad or Android phone. So you'll have your favourite games available 24/7 and can make those boring commutes or chores more exciting. For those of you who hate downloads, then there are a number of slots and games which can be played directly; so basically it's a win win!
Summary of Mecca Bingo offers;
• Welcome bonus for Mecca Club members is £15 no deposit bonus after registration. £5 automatically after registration and two £5 vouchers within 28 days,
• Welcome bonus if new to Mecca Bingo, make 1 deposit of £10 and receive £40 online bingo bonus and £10 to use in any Mecca Club,
• Available on desktop, mobile and tablet devices,
• Huge range of bingo, casino, progressive and slot games,
• 7 days of complimentary bingo for newbies upon registration,
• Easy cash in and out at Mecca Clubs between £10 and £100,
• £5 birthday bonus,
• Available on Facebook, Twitter, Instagram and You Tube,
• Win 30,000 play points if you're roomie of the week,
• £20 bonus credit for each friend you refer,
• VIP Scheme,
• Loyalty Scheme – Play Points.
Welcome Bonuses
Registering is easy on Mecca Bingo and when you're a confirmed new player, you can enjoy one of two incredible bonuses;
For those of you who are already Mecca Club players, you'll enjoy a £15 no deposit bonus after you register. This bonus is broken down into three parts; you'll receive £5 after registration and within 28 days an additional welcome pack will be sent with two £5 vouchers to use in any way you wish.
For those of you who are new to Mecca, make a 1st deposit of £10 and you'll receive £40 online bingo bonus and £10 to use in any Mecca Club. For those who are Mecca Club members and claimed the £15 no deposit bonus, you can still claim the £30 additional credit for online gaming.
This credit is the perfect way for you to play around on the site and test its speed and quality, before spending anymore of your own money.
On top of the incredible credit, you'll also receive 7 days of bingo which is for newbies only. The games are available between 12pm to 1pm and 6pm to 8pm, with £20 worth of bingo bonus credit to be won in every game.
Easy Cash Out/In
To make things even easier Mecca Bingo offer 1 withdrawal a day per person, from any Mecca Club. It is limited to amounts between £10 and £100, and you need to pre arrange with Mecca before pick up; full details can be found on their promotions page.
Likewise you can also make 1 deposit per day at a Mecca Club, but again this is limited between £10 and £100.
Birthday Bonus
It's not just your mum who'll wish you happy birthday, because Mecca Bingo give out £5 birthday bonuses to their players; now that's what we call a present!
Roomie of the Week
For those who are new to the bingo world, a Roomie is another word used for bingo playing friend. Mecca Bingo love to reward their roomies and as such offer a roomie of the week. Each week they pick one player from 4 of their bingo rooms, who as well as getting a nifty title will also win 30,000 play points.
Social Media
You'll already have guessed that Mecca Bingo are a sociable bunch, so it won't surprise you that they have pages on Facebook, Twitter, Instagram and You Tube. So make sure you like and follow, to keep up on the latest bingo news and promotions.
Refer a Friend Scheme
If you're planning on telling your friends about Mecca Bingo, then why not earn a little bonus for it? For each person you refer who deposits, you'll receive £20 bonus credit.
VIP Scheme
Mecca Bingo offer a VIP Scheme which is invitation only, as such a member of the team will contact you when you're eligible.
Loyalty Scheme – Play Points
Play Points is the name for Mecca Bingos loyalty scheme, where for each bingo ticket you buy you earn points. There are 5 play point levels and each offers bigger and better bonuses.
Customer Support
Should you require any support, then we recommend you check out the Mecca Bingo featured articles and help section. This is an extensive list of queries and answers, with a search option to help you find what you want quicker. It's probably one of the best search sections we've ever seen on a bingo site.
Should you require assistance from a Mecca Bingo representative, then you can contact a member of the team 7 days a week between 8am and 11.59am via telephone. They also offer support via email and through the old fashioned method of mail; they aim to reply within 5 working days.
Banking Methods
Mecca Bingo accept the usual banking methods including Debit Cards, Paypal, Skrill, Neteller and Paysafe Card.
If this hasn't convinced you enough, then head over to Mecca Bingo to check it out for yourself.