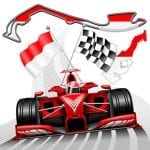 Monaco Grand Prix 2016 Round Up
Lewis Hamilton must have thought Christmas had come early this year, after a long run of poor results, most of which was down to the car, it all went well for him in this race.
His team mate Nico Rosberg who dominated the closing races of last season and all but one of this season, could not get it together in the very wet conditions, so on the 16th lap team orders were issued and he moved over and let Lewis pass.
You have to wonder though, if it was Lewis who was asked would he have done the same, this left him able to make a charge on Ricciardo, who this weekend was in a class of his own.
He took pole and off the line streaked ahead and the race was his to win, on lap 31 Ricciardo pitted and put on intermediates, Hamilton came in on lap 32 and took the unusual step of going straight from wets to slicks.
Ricciardo only stayed out for one lap and opted to pit again but this time for slicks, it seems his crew could not work out what tyres to put on and were running around like headless chickens, when they finally got themselves sorted he had lost 13 seconds, leaving the pit lane just as Lewis passed and was pushed back in to second place.
Despite trying his best to pass Lewis from lap 32 to the finish, at Monaco its nearly impossible to pass if you have a driver of Hamilton ability in the front, Ricciardo was not at all happy when interviewed later as he said the team had cost him the last two races.
The wet conditions caught a lot of the drivers out. Young British driver Jolyon Palmer lost control on lap 8 and ran on a white line to hit the barrier.
Raikkonen hit the barrier on the turn before the tunnel and put his front wing under the car, luckily he drove it out of the tunnel and found a safe place to park it.
Kvyat and Magnussen came together on lap 22, then Magnussen hit the barrier on lap 34 to end his race.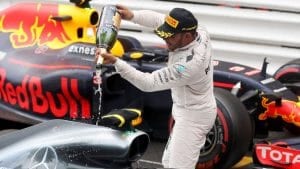 Max Verstappen, who made history in Spain by winning for red bull in his first drive for the team and become the youngest driver to win a G.P, will want to forget this Monaco experience, he crashed in practice and again qualifying, then on lap 36 seen his race finish in the barriers.
Sauber must of had some strong words with their drivers, on lap 50 both cars were running well but the team thought Ericsson was fastest, he was right behind Nasr so the team asked him to let Marcus through, Felipe did not do as ordered and a couple of corners later Marcus tried an impossible pass on Felipe who took his line for the corner, both cars came together.
A fifth place for Fernando Alonso seems to point to the team making some strides towards a better car, it really couldn't get any worse, Jenson Button also ended in the points so let's hope these top drivers can see some light at the end of the tunnel.
The next race is in Canada, and our money is going on Riccardo, the lad deserves a win, providing red bull do not mess it up again.
Stats for Monaco
1st: Lewis Hamilton 2nd: Daniel Ricciardo 3rd: Sergio Perez
4th: Sebastian Vettel 5th: Fernando Alonso
First G.P  1929.
G.Ps held  73.
Laps  78.
Circuit length 2.074 miles.
Race distance  161.734.
Direction clockwise.
Winners from pole 28.