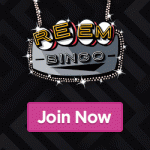 Reem Bingo Review
Unfortunately there is no promotional scheme available on Reem Bingo to assist us in advertising the site. As such we have provided you with an alternative called Comfy Bingo, which is an impressive gaming site offering a great choice for any type of player.
Reem Bingo is an online site where sexy and bingo go side by side which is why Place a Bet Online wanted to introduce it to you. With a great choice of high quality gaming and generous bonuses, you'll soon feel at home with all of the glitz and glamour. It doesn't matter if your preference is bingo, casino, scratch cards or slots such as Plushie Pleasure and Kitten Ball, we know you'll be a Reem Bingo roomie.
We're sure you're wondering how you can play so many great games with a busy work and life schedule; well that's easy you game on the go. Reem Bingo is available on your mobile device including Android, iPhone and Tablets, meaning you can game when and wherever you like. Mobile gaming is becoming increasingly popular and means that every day boring chores can have the added fun of a possible jackpot win.
Summary of Reem Bingo offers;
• £5 bonus upon registration, no deposit required,
• 1st deposit, 500% cash match bonus on minimum £5,
• 2nd deposit, 250% cash match bonus on minimum £5,
• 3rd deposit, 300% cash match bonus on minimum £5,
• Cash back for any further deposits made,
• Deposit special when you bank with cash,
• Great chat rooms and games,
• 100 bingo cards when you join Facebook and Twitter,
• Refer a friend bonus.
Welcome Bonuses
On Reem Bingo it's as simple as registering and you'll receive £5 credit with no deposit required. This credit is the best way to try out the site without spending any of your own money, and working out which games you like.
The bonuses don't stop here though, because Reem Bingo are so generous they offer a whopping 1,050% cash match bonus over your first 3 deposits. With a minimum £5 deposit each time, you'll receive the following;
1st deposit, 500% cash match bonus,
2nd deposit, 250% cash match bonus,
3rd deposit, 300% cash match bonus.
Cash Back Bonus
Reem Bingo keep on giving even when you've passed the newbie status, with their amazing cash back bonus. So from your 4th deposit onwards you'll receive additional bonus credit which could be anything from 5% to 20% depending on how much you deposit. We always recommend you check the cash back tab under promotions before you deposit so you know how much you'll receive.
Deposit Special
If you prefer banking with cash then you've come to the right place, because with Reem Bingo you'll receive a deposit special which alike the cash back bonus will be dependent on the amount added.
Regular Offers
Reem Bingo believe that one of the best things about playing online bingo is meeting new roomies and friends. So they have the best chat rooms and games such as Play Mirror, Nextout and Charmed, where you can meet fellow players and pass on your experiences and tips.
If you're a social media fan then make sure you check out their Facebook and Twitter pages for the latest games and promotions. If you 'Like' or 'Folllow' either page then you'll be delighted when you receive 100 bingo cards to use whenever you like.
If you know of any friends who like bingo then let them know about Reem Bingo, because for every referral you make you'll receive a bonus to use on additional gaming.
Banking Methods
They accept the usual banking methods including Debit cards, U Kash, Paysafe Card and Neteller.
So if you're ready for a Reem good time and £5 credit, then head on over to Reem Bingo.