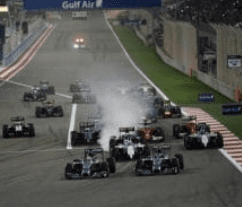 Round up of Bahrain Formula One 2016
If you were anything like us at Place a Bet Online, you'll have been wondering if you were watching a rookie race rather than the Formula One in Bahrain. From the start there was calamity when Bottas went into the side of Hamilton, luckily neither car was damaged enough to take them out of the race. This is the second race in a very short season that Hamilton has had a terrible start and let his team mate race off into the distance.
Further collisions occurred when Peres and Sainz collided which resulted in Sainz tyre being punctured; with so many crashes it was a heart thumping start to what was an exciting race.
We probably weren't the only ones who had an opinion as to who would win, because Sebastian Vettel has been a strong contender. But we were miles out because he didn't even make the start of the race and for the second race of the season the Ferrari engine blew up; Kimi Raikkonen's went in Melbourne.
Taking aside the engine problems of Ferrari, they again put in a strong performance with Kimi taking second place after a very clean and steady race. They look to be getting stronger, if only they can overcome the engine problem.
Fernando Alonso was ruled out of this race, but a young Stoffel Vandoorne took his place and has already shown what a talent he has. First he out qualified his team mate, then finished in the points, a great feat for your first F1 outing. We don't even like to mention Button who ended parked up yet again and doesn't appear to be having much luck.
Romain Grosjean took a fifth place for Hass, this new team is going great in their first season and we expect them to continue to grow. Hopefully it won't be long before they get a podium position with some of the big boys out there.
The new boy Joiyon Palmer after a good first outing in Melbourne, did not even get into this race due to a problem with his car.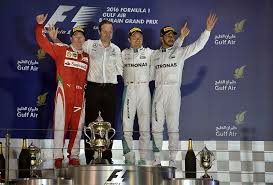 From a fans perspective we are astounded that they have used the same qualifying method which was used in Melbourne; we were disappointed in Melbourne and that continued in Bahrain. The news is that many of the drivers sent a letter of complaint and Bernie Eccleston, Chief Executive of the Formula One Group has made derogatory comments about their intellect and the fact that they don't have the right to make comments.
Not much can be said about Nico Rosbergs race, he took the lead from the start and other than pit stops he stayed there.
Hamilton after his poor start, worked his way through the field and finished a very solid third, with Daniel Riccardo taking forth.
Overall Bahrain was an exciting and following the letter incident, a pretty fiery race. We were disappointed not to see Vettel start the race, but we are keen to see his driving genius in China. The main question we're asking each other is will Rosberg make it three?
Statistics for Bahrain;
First GP 2004,
GPs held 57/ Laps 57,
Circuit length 3.362 miles,
Race distance 191.53 miles,
Direction clockwise,
Winners from pole 5