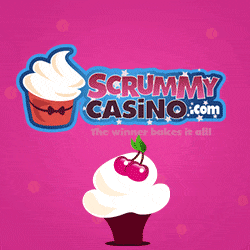 Scrummy Casino Review
Unfortunately, there is no promotional scheme available on Scrummy Casino to assist us in advertising the site. As such we have provided you with an alternative called Boyle Sports Casino, which is an impressive gaming site offering a great choice for any type of player.
With bright and sumptuous looking cupcakes all over the site, Place a Bet Online were instantly hooked by Scrummy Casino. But other than a visual sugar high what do they offer? Well that's easy, lots of high quality games and generous bonuses; which we're eager to tell you about.
If you're a fan of casino, scratch cards and slots such as Five Pirates and Honey Bees, then Scrummy Casino have you covered. When you add in the fact that many of their games are available on mobile devices, you'll soon realise that you can play anytime and anywhere. So throw that laptop in the draw and grab your mobile, because all you need is an Android, iPhone or Tablet device and the world's your oyster; or the bath if you fancy a chillaxing one.
Summary of Scrummy Casino offers;
• £10 credit upon registration no deposit required,
• 1st deposit 100% cash match bonus between £10 and £500,
• 2nd deposit 100% cash match bonus between £10 and £500,
• Available on mobile and tablet devices,
• Cash reload bonus from 3rd deposit onwards between 25% and 100%,
• 20% cash match bonus on any slots played,
• Weekly raffle where you can win amazing prizes every week,
• £10 Amazon voucher for each friend referred who deposits.
Welcome Bonuses
We always love to start with a bonus and that's precisely what you'll get with Scrummy Casino and their £10 bonus credit, no deposit required. What better way to try out the site and its huge array of games, before parting with any of your own cash.
When you're looking at depositing you can enjoy a 200% cash match bonus split over your first 2 deposits. The bonus is on amounts between £10 and £500 and is broken down as follows;
1st deposit 100% cash match bonus,
2nd deposit 100% cash match bonus.
This means that if you take advantage of both deposits and add the maximum amount of £500, you'll walk away with a whopping £1,000; that's £2,000 to game with!
Reload Bonus
From the 3rd deposit onwards you can enjoy a cash reload bonus on a minimum £10. The percentage you receive will vary depending on the amount of credit added, but would be between 25% and 100%.
Regular Promotions
If you love playing slot games then you can enjoy a 20% cash match bonus on a minimum £10 for your slots spend that day.
Scrummy Casino's weekly raffle gives you the chance to win amazing gifts every week. All you have to do is add a minimum £10 and you'll receive raffle tickets, so the more the deposit the more tickets you'll receive. There are 2 lucky winners every week who will receive;
Debenhams Gift Card/Apple 2GB iPod Shuffle/ NIX 8 Inch Digital Photo Frame/ Sony Ultra Portable Bluetooth Wireless Speaker/ Sony Stereo Headphones (OR) Casino Cash,
25 Casino Cash.
Refer a Friend Scheme
It would be cruel not to tell your gaming friends about Scrummy Casino, so for your referral why not earn a little bonus? For each person you refer who deposits, you'll receive a £10 Amazon voucher which you can use however you wish.
Customer Support
If you have any queries or problems, you can contact Scrummy Casino by email, live chat or by raising a ticket.
Banking Methods
Scrummy Casino offer a number of banking methods including Debit Cards, U Kash, Paysafe Card and Neteller.
To claim the amazing £10 bonus credit, simply head on over to Scrummy Casino and register!