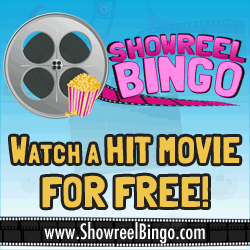 Showreel Bingo Review
Place a Bet Online bring you a bingo site with drama, thrills and enough excitement to fill a blockbuster film, which is ironic with a name like Showreel Bingo.
Summary of Showreel Bingo Offers;
• 200% cash match bonus on £10 deposit,
• Spin the Showreel Wheel with a chance to win £2,500,
• Complimentary blockbuster movie,
• Access to Newbies Jackpot Room with a chance of winning £500,
• Amazing weekly promotions,
• VIP Club.
Welcome Bonuses
Registering with Showreel Bingo is easy and you can take advantage of their incredible welcome package which includes bonus credit, games and even a movie.
When you make your 1st deposit of £10 they will give you a 200% cash match bonus, which means £20 bonus and £30 in total to play with. This is a kind of try before you buy, so you can play around on the site and see how great it is.
On top of this you're given the chance to earn extra gaming credit by spinning the Showreel Wheel with the chance of winning between £5 and £2,500, amazing right!
If this wasn't generous enough then how about a complimentary blockbuster movie as a thank you for joining. With a huge choice of amazing recent movies it's as quick as streaming the film and getting the popcorn ready, and all for a tenner!
After you're a fully-fledged Showreel Bingo roomie you will be invited to their Newbies Jackpot Room with a chance of winning £500. Tickets are available for 7 days after you register at the cost of 25p a ticket and the game takes place Friday at 9pm.
VIP Club
Showreel Bingo also offer a VIP Club which you join at the point of registration as a 'member' but you can climb your way through another 4 levels (bronze, silver, gold and black) each offering bigger and better rewards. These enhanced benefits include higher re-deposit bonuses, mystery gifts and exclusive VIP games to name a few.
Regular Promotions
Now we've told you about Showreel Bingos newbie offers let us tell you about some of their regular weekly promotions;
Takeaway Game –Every Friday at 8pm head over to their Lucky Star Room where you could win a takeaway on a night of your choice the following week. The prize is up to £50 so pick what you want carefully and if you win you could be treating the family to a fantastic dinner, simply for playing your favourite game of bingo.
Monday Madness – From Monday 4pm to 7pm Showreel Bingo will shatter the norm by switching their 1 line and full house prizes.
Friday Fever – You can win an amazing £150 every week on a Friday at 8pm sharp!
Weekend Wad – Showreel Bingo are giving away an amazing 250,000 loyalty points every weekend simply by grabbing the golden number!
We're sure you're eager to register and claim your welcome package, which you can do by heading over to Showreel Bingo.