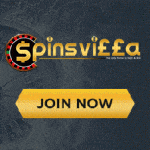 Spinsvilla Casino Review
Unfortunately, there is no promotional scheme available on Spinsvilla to assist us in advertising the site. As such we have provided you with an alternative called BoyleSports Casino, which is an impressive gaming site offering a great choice for any type of player.
For many of us finding the perfect casino to suit our needs is like finding a home from home. We at Place a Bet Online may have found your new sanctum, with an amazing casino launched in 2016 called Spinsvilla Casino.
Spinsvilla Casino uses the renowned Cozy Games platform and combines impressive casino games, scratch cards and our favourite slots such as Honey Bees and Five Pirates. Although they want you to feel at home, Spinsvilla Casino give you the option to play when and wherever you like, by providing the software for you to game on your mobile and tablet devices.
Summary of Spinsvilla Casino offers;
• £10 no deposit bonus upon registration,
• 1st deposit, 100% cash match bonus between £10 and £500,
• 2nd deposit, 100% cash match bonus between £10 and £500,
• Available on desktop, mobile and tablet devices,
• Daily login bonus – spin the Fortune Wheel,
• Slots Cash Back,
• Reloads Bonus and Bonus Bonanza,
• Mid-week awesome surprise - receive extra cash up to £50,
• Weekend bonus wonders – 25% extra cash,
• £10 Amazon voucher for each friend you refer,
• Pages on Facebook, Twitter and Google+,
• Accept payments via Boku.
Welcome Bonuses
From the moment you register you'll enjoy generous bonuses, because simply for providing a few details Spinsvilla Casino will give you a £10 no deposit bonus. This is their way of providing you with the opportunity to test out their pages and games, so you can work out what we already know; that Spinsvilla Casino is a great gaming site.
These crazy bonuses continue when you make your first 2 deposits, because Spinsvilla Casino will give you a 100% cash match bonus up to £500. To make is simpler this bonus is broken down as follows;
1st deposit, 100% cash match bonus between £10 and £500,
2nd deposit, 100% cash match bonus between £10 and £500.
This means that you're doubling your money and can enjoy more high quality games. Even if you add the minimum £10 on both occasions, you'll walk away with £40 in total.
Regular Promotions
Spinsvilla Casino offer a number of regular promotions which include;
Daily Login – Yes it's as good as it sounds! All you need to do is log in to Spinsvilla Casino and you'll be guaranteed a present. You'll find out what your gift is by spinning the Fortune Wheel, with prizes including casino cash.
Slots Cash Back – For the slots gamers out there, you can enjoy up to 20% cash back on your slots gaming every week. The percentage given will depend on the amount gamed, with the minimum amount being £50.
Reloads Bonus – Simply for depositing a minimum £10 and playing amazing games on Spinsvilla Casino, you'll receive a reload bonus. The reload amount is dependent on how much has been wagered but could be anything up to 100% cash; giving you lots of extra gaming time.
Bonus Bonanza – Deposit on a Monday or Tuesday and quote the code 'TOPUP' for 25% extra cash; yep that's every single week!
Mid-Week Awesome Surprise – The middle of the week tends to be a drag for all of us, so why not add a bit of joy with the Spinsvilla Casino mid-week awesome surprise. Deposit a minimum of £10 every Wednesday and Thursday and you'll receive extra cash up to £50.
Weekend Bonus Wonders – On Friday, Saturday and Sunday contact the support team to claim 25% extra cash. You could then be one of the lucky 3 players every day to win 100% cash back.
Refer a Friend Scheme
You're probably already texting your bestie to tell them about this amazing site, but wait! For every friend you refer who deposits, you'll receive a £10 Amazon voucher to use however you like.
Social Media
For those of you who like to keep up on the latest gaming news, check out the Spinsvilla Casino Facebook, Twitter and Google+ pages. They will let you know about any new games, promotions and extras that are available.
Customer Support
Spinsvilla Casino is available to contact via email, live chat and ticket. So if you have any queries or issues head over to their 'Contact Us' tab.
Banking Methods
They accept the usual banking methods including Debit Cards, Neteller, Paysafe Card and Boku.
Boku for those of you who are unaware, is the ability to pay for your gaming credit by adding the amount to your mobile phone bill. You pay off the credit when you receive your mobile bill and only need to provide the 11 digit mobile number when registering; keeping your bank details safe and secure.
This is perfect for those occasions when the pennies are a little tight, so you can continue gaming and pay it off after payday. There tends to be a cap when you initially register, but this will increase as you continue to use Boku.
So if you're ready to enjoy these endless amazing bonuses, then head over to Spinsvilla Casino to claim the £10 no deposit bonus.