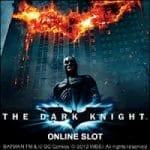 The Dark Knight Slot Review
At Place a Bet Online we are huge fans of online and mobile slots and as such are able to independently review many slot games, one of our absolute favourites is The Dark Knight Slot game, which I'm sure you've heard of. The Dark Knight Slot is another in a long line of Hollywood blockbuster to be successfully converted to a multi reel casino slot, courtesy of internet gaming giant Microgaming.
As per usual Microgaming have managed to capture the essence of the movie and transferred it in to this captivating slot game, not only do you get a the same dark and suspenseful feel that Christopher Nolan injected in to batman movie franchise, but top of the line graphics mean you also get to see your favourite characters battle it out in front of you in the all new and unique Cinematic Spins.
Where to Play the Dark Knight Slots;
Not only does The Dark Knight Slot contain all the usual bonus rounds of most slot games, you can also enjoy some exciting new features, the type of which will no doubt be copied by other slot providers as they enhance mobile gaming and take it to another level.
The infamous Batman logo is used as the wild symbol in the Dark Knight and replaces almost every symbol on the reels, the only exception being the scatter symbol.
The graffiti style Dark Knight logo represents the scatter symbol, which when lined up 3, 4 or 5 times anywhere on the reels, they trigger a games bonus where you can be awarded 15 spins with the possibility of a 2 times multiplier.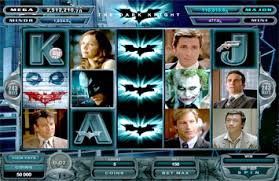 The Cinematic Spins feature which is one of the fantastic new elements to this slot games, is a surprise bonus feature which appears randomly throughout the game, and involve Batman and The Joker in various scenarios which inevitably end in you winning cash or extra bonuses.
As with most high profile slot games, The Dark Knight Slot is a progressive jackpot slot, meaning that the top prize just keeps rolling over until someone wins, which is usually in excess of a whopping £1,000,000, the chance to win this mega prize can occur at any point in the game where a bonus wheel will appear, simply spin the wheel to reveal which of the four jackpots you have won.
If you're after a thrilling and fun packed slot game then The Dark Knight Slot is definitely for you, with plenty of bonuses and massive payouts you'll be wasting your time and money seeking a better thrill elsewhere.