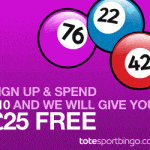 Totesport Bingo Review
Unfortunately, there is no promotional scheme available on Totesport Bingo to assist us in advertising the site. As such we have provided you with an alternative called BoyleSports Bingo, which is an impressive gaming site offering a great choice for any type of player.
Place a Bet Online bring you Totesport one of the UK's biggest betting sites, which not only offers sports odds and casinos, but they've now introduced Totesport Bingo. If you have a preference for bingo, scratch cards, casino or slots then you'll have plenty to choose from, with household names such as Arabian Delights and Cleopatra's Chest.
Summary of Totesport Bingo offers;
• 1st deposit, 250% cash match bonus on minimum £10,
• Available on Facebook and Twitter,
• Amazing regular promotions,
• Chat games and rooms,
• Loyalty scheme.
Welcome Bonuses
When you register with this impressive site and make your 1st deposit, you'll receive a 250% cash match bonus on a minimum £10. This means that if you deposit the minimum amount you'll receive £25 bonus, making a grand total of £35. This extra credit will give you the opportunity to really play around on the site and try out a number of new games.
Social Media
For you social media fans out there, make sure you check out Totesport Bingos Facebook and Twitter pages. Simply by liking or following either page you'll keep up to date on the latest games and promotions.
Regular Promotions
Some of the regular promotions are;
Daily Piggy Smash – Totesport Bingo are giving away a scratch card every single day when you spend £1 or more on bingo tickets, and you could win a whopping £500.
Penny Bingo –If you visit the Roomies Club every Monday to Wednesday between 11am and 12pm you can play penny bingo. Even though it's penny bingo you could win up to an amazing £75, talk about a lucky penny!
Chat Games
Totesport Bingo believe that part of the fun of playing online bingo is chatting with fellow roomies. This is why they offer chat rooms and games, so you can play a great game of bingo, win some prizes and make friends.
Loyalty Scheme
At the point of registration you'll join their loyalty scheme where simply by playing you can earn points. The more points you earn the quicker you move through the 5 loyalty levels which are bronze, silver, gold, platinum and diamond; each offering bigger and better rewards.
So if you're interested in claiming a whopping 250% cash match bonus, then head on over to Totesport Bingo.