Colossus Bets Win Coral Accumulator Jackpot
In case you haven't already heard, Colossus Bets have won the Coral £1,000,000 football jackpot last night!
To celebrate the win, Colossus Bets has increased the prize money to be won on their 'Pick 3' Premier League pool, to £10,000! The action kicks off with Arsenal v Liverpool on Saturday at 5.30pm GMT. As always the weekly 'Pick 7' Colossus pool for £10,000,000 is also up for grabs beginning on Saturday, November 2nd.
Open your Colossus Bets account here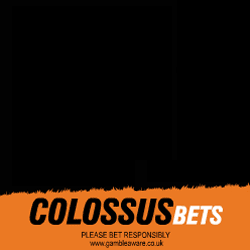 The newly formed betting site which focuses on betting pools and the correct score market, went toe to toe with one of their biggest rivals and gave them a beating on a par with David vs Goliath.
After correctly picking the outcomes of 15 games selected by Coral, the Colossus Bets team won the jackpot offered by their pool betting rival, landing a significant body blow on their competitors.
The August 2013 betting start-up Colossus Bets, home of the £10 million weekly football jackpot bet and includes Michael Owen as its ambassador; scooped the £1 million winnings off rival bookmakers Coral, courtesy of Watford's controversial 1-1 draw at Brighton.
What gives this extraordinary win extra spice, is that both betting companies run rival weekly football pool bets.
Where Coral offered a one off £1 million to the first single person to predict the results of 15 matches, Colossus Bets guarantee a lottery-sized £10 million potential pay-out every week if punters successfully forecast the correct scores of seven matches.
Whilst Colossus Bets CEO Bernard Marantelli was magnanimous in victory, by giving Coral credit for allowing them to the opportunity to scoop the prize. He pointed out that Coral and other large online bookmakers are missing a trick by not offering the opportunity for punters to cash out, which is an option available to all of Colossus bets players.
Bernard Marantelli explained: "We spent just shy of £35,000 on the bet with Coral last weekend. If the bet had offered a cash-in option like Colossus Bets itself offers to our players, we would have banked some profits before the match last night. Instead, we sat and sweated through the 90 minutes with the Watford supporters!"
In fact Colossus Bets even allows punters to trade in a percentage of their bet, known as fractional cash-in i.e. you can sell back your bet to Colossus Bets, in increments of 10% should you so wish and retain an interest in the original bet; giving you the opportunity to collect winnings even if the bet loses.
Marantelli then called on competitors to think long and hard about adding the cash out option to their own platforms, even if only to spare punters from the anxiety of waiting on one result.
"I think the betting industry needs to follow our lead and offer fractional cash-in on multi-leg bets. What if you were a small-staking £2 punter last night and were watching that match knowing you were going to walk away with £1 million or nothing, with nothing in between; that can't be right in this day and age."
"If a new firm like ours can offer a cash-in option on £10 million every week as part of our offering, the rest can, too."
If you think you can do a Colossus and beat them at their own game, open your new account and enjoy three free bets.