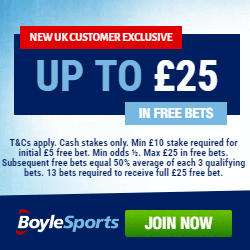 Which Bookies have the Best Accumulator Bonuses
If like us you love a good weekend acca, then you'll no doubt have heard about the new 200% accumulator bonus at Boylesports. Whilst this bonus is impressive, it did lead us to ask ourselves which bookies have the best accumulator bonuses for football, racing and other popular sports betting markets.
Best Accumulator Bonuses
Boylesports 200% Acca Bonus
Bwin Combi+ Enhanced Odds
We've been betting for quite some time now and having trawled through the most popular betting sites, we think the five bookies above offer the best accumulator bonuses. But as you can see it's not just about a winning bet percentage bonus; acca insurance and odds boosts can also be extremely handy, which is why we have made our best accumulator bonuses list.
Below you will find more detailed information on all of the acca bonuses listed, so you can make an informed decision of which bookie or bonus best suits your betting needs.
Boylesports 200% Accumulator Bonus
Launched this year, Boylesports stepped up their game and put the pressure on their competition with a new acca bonus, which offers a potential 200% of your original winnings as a bonus payment.
Earn up to a 200% bonus on your next accumulator with the industry-best Boylesports Acca Bonus!
Using a scale from 10% to 200%, you can be rewarded for your betting prowess and even bravery with what we consider to be the industry-best Acca Bonus. Best of all the bonus pays out for five folds or more placed on any sport, any market and any time, making it the most generous bonus system in the betting world.
5, 6 and 7 fold accumulators pay out a 10%, 15% and 20% acca bonus respectively, each extra selection added to your acca coupon will earn you an additional 20% bonus all the way up to 200% for 15 picks.
Bwin Combi+ Accumulator
Combi+ from Bwin is essentially an accumulator, but they have taken the hassle out of making your selections, or fear of leaving a team out. The Bwin Combi+ is a 1-click Multi bet and a combination of the best picks from a round of fixtures in a single bet, but the exciting part is the 30% higher odds that are being offered against compiling the same accumulator yourself.
With the Combi+ you can bet on domestic football leagues and European competitions, like the Champions League and Europa League, as well as international qualifiers and friendlies. There are also 5 different Combi+ bets that can be placed.
Accumulator Insurance
Accumulator Insurance is possibly the most popular acca bonus. Simply place an accumulator with at least 5 picks across all of Europe's top football leagues. If the acca gods aren't smiling down on you and just one selection lets you down, all is not lost; because acca insurance has got you covered. Most decent bookmakers offer acca insurance and will refund your original stake as a bonus bet, allowing you another opportunity at a pay day.