Know Your Customer Identity Checks in Online Casino and Betting
There has been a steady stream of regulation changes to the online gambling industry over the last ten to fifteen years. It will come as no surprise to you that most of them occurred due to the introduction of the UK Gambling Commission (UKCG) in 2007. Many of these adaptations brought a sense of frustration to players and betting sites, such as the removal of credit cards as a banking option. Whereas for the vulnerable players the enhanced requirements for self-exclusion and coherent terms and conditions, was seen as a positive step.
The UKGC's role was to bring transparency to an industry which sometimes focused more attention on their profits, than their players. The first step was the introduction of licences for sites who wished to offer services to UK gamers. But probably the most significant is the know your customer identity checks in online casino and betting, and it is this we will focus on.
What is Know Your Customer (KYC)
If you have chosen a gambling site and registered your details, you are legally required to provide documents to the casino before you can make a deposit or wager (this includes those of you who may be using a bonus or free welcome credit). These documents will be used to confirm your identification via specific checks and are a mandatory requirement of the casino's UKGC licence.
The fact that we have to provide these documents is seen as a hindrance by many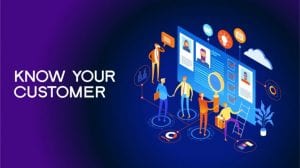 gamers. Even more so when you can walk into a bookies on your high street and place a bet without the requirement of identification. For many the annoyance is the delay caused by checking the paperwork before the player can access the games on the site. Most of the larger reputable gambling companies have stringent systems in place and as such their verification process can be done quickly. This may be a consideration when you are choosing a gaming site, but you should also ensure that they have a UKGC licence.
So, let's get down to the nitty gritty of what know your customer is. It is the process of ensuring you know your customer is legally responsible enough to play on the gaming site. The main reason for its introduction was to ensure that all gambling sites were conducting checks that verified the player was old enough to gamble. This primarily is to safeguard those who are underage and may struggle with self-control and as such end up with a gambling addiction. On top of that is the age-old problem of money laundering, which has previously been an issue within the online gambling arena.
Reasons why Gambling Sites Need to Verify Identification
Prevent Underage Gambling – As we have mentioned above, this was the main reason why the UKGC introduced the new checks. For gamblers walking into a land-based betting shop or casino, there is an aspect of visual ID verification which cannot be conducted online. Playing online is visually quite anonymous and as such the sites must ID all players with a registered account to ensure that they are 18 years or older. Not only is 18 the minimum legal age to gamble in the UK, but there is also credible scientific research that younger adults are susceptible to marketing for casino bonuses and promotions. Even demo slots have been known to be a precursor to gambling addiction.
Prevent Fraud and Money Laundering – For those of you who are unsure as to what money laundering is, it's basically legitimising or cleaning illegal money. This could be money made from criminal activities such as the drugs trade or sex trafficking. One of the ways money launderers clean the money is by filtering it through legal businesses, so there is a paper trail should it be questioned. The need to stop money laundering is important, because it could have a significant economic impact which is why checking ID was introduced. Anonymity had always been essential to criminals in the past, but now there is a connection between the person's identity and their account. This will make it harder for them to pass large amounts of money through their casino account unquestioned. Also, if the person's name has previously been linked to suspected money laundering, then the site can block their account and no longer accept their custom, or request additional ID. This type of action has occurred to players whose payment information does not match the address they have previously provided. There may also be additional identification requests for anyone crediting or withdrawing a large amount of money, especially if it reaches the sites threshold or is an unusual action for that particular customer.
Completing the KYC Process and the Documents Required
So that is the reason why the document checks are completed, but what do we gamblers need to provide? The three areas which sites need to verify are.
Proof of identification and age,
Proof of Address,
Proof of payment method(s).
Proof of Identification and Age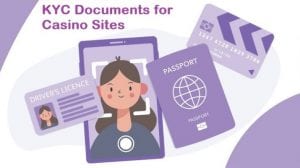 To confirm identity and age, the documents required will be a government issued ID with common options being passports and a driver's licence. For customers who do not have either of these documents, then a birth certificate will be accepted but the verification process may take a little longer.
Our biggest tip to speed up the verification process, is to make sure that the image you send of the document is as clear as possible. The ID must also be in date for it to be valid, so ensure documents such as passports are renewed.
Proof of Address
To fulfil this requirement, you will need to provide the gambling site with a utility bill or bank statement with your name and address on. Examples can include a council tax bill or water and electrics bill, but they must be dated within the last three months to qualify.
Proof of Payment Methods
Because there are so many payment methods available, from bank transfers to e-wallets and phone bill payments, the proof required will depend on the option you have chosen.
Soft Credit Checks
It is possible that to confirm a player's identity the site will conduct a soft credit check but be assured that this will have no effect on your credit score. It is purely used for validation purposes and as such there is no long-lasting affect financially.
There may be occasions that a gaming site asks for additional documents before they finish the verification process. Whether you choose to provide them is purely at your discretion, but it is the gaming sites decision as to what they believe is needed to ensure all of the legal requirements are completed. It may simply be that there have been changes in your personal details since you initially provided the information and your documents. This would mean that they will need clarification on why those discrepancies have occurred. Failure to supply the documents that are requested, may lead to you not being accepted or having your account closed.
For queries in relation to your financial information, there may be a request for your proof of earnings (sometimes known as source of wealth documents). This can include a variety of documents, but more commonly used ones are payslips and bank statements. Source of wealth tends to be requested when a site is concerned about a player's welfare. This may be that they are suddenly wagering much more than they previously had and the casino is concerned that they are vulnerable to a gambling addiction.
Document requests have been known to vary slightly between each casino, but they will still adhere to the guidelines which must be followed by UKGC licenced sites. We have slightly mentioned it earlier, but make sure that the image you send is clear, readable, and unobstructed. Any issues with your documents can lead to longer delays, which is frustrating when all you want to do is play games.
How will my information be used and stored?
Within the gambling site there will be an area where you can upload the images of your documents. It is also in this section that you will find out if you have been accepted or declined. Most sites will contact a player if there is any problems with the information or documents and let them know what the issue is. The process of verification checking is done via the electoral roll, which can be a problem for people who are not registered. The casino may then have to request additional information from you. But generally, the know your customer check should take between 1 and 3 days.
If during your time on the gaming site you change any of your personal information, for example getting married or move to a new house, then we would recommend updating your documents on the site. All UKGC licenced gaming sites must ensure that the information they have is accurate and as such they will request updates of documents every so often.
If you are concerned about how the site will store your information, then you'll be pleased to know that they have to comply with GDPR (General Data Protection Regulation). This means that your data can only be shared with government regulatory bodies if required.
What Happens if my Documents are Refused?
The first thing to note is that ensuring the know your customer checks are complied with, is an essential aspect of the casino keeping its UKGC licence. Failure to follow the regulations could see their licence removed and as such they would not be able to provide gambling services in the UK. Should your documents be refused then you will have the right to appeal. This may require sending additional documents to prove your identification. You could of course always try and register with another gaming site.
For those of you who are regular players who have had a request for updated information, then again you would have the right to appeal if you failed the validation process. If the casino suspected any inaccuracies, then you may have your account suspended, which can lead to them refusing to pay you out or even closing down your account completely. Under these circumstances we would recommend contacting Alternative Dispute Resolution (ADR) services such as Resolver or IBAS. They will expect that you have attempted to deal with the matter via the site first through their complaints procedure but should that not work out then they may be able to provide assistance.
Summary of Know Your Customer Identity Checks in Online Casino and Betting
Although there has always been an element of verification for online casino customers, the introduction of know your customer created some frustrations for players. Hopefully this guide has explained the reasons for its existence and the type of documents needed.
Because identity checks protect vulnerable gamers and minimise the risk of criminal activities, there is an increased level of confidence in the gambling industry. The fact that they use secure software means that our money and personal information should be safe.
Our top tip is to ensure that your chosen site is registered and licenced by the UK Gambling Commission. You will find their logo at the bottom of the sites page and it should take you through to the register of licence holders.
Sadly if you want to play online casino and slot sites, then you will have to accept the document checks as par for the course of the online gaming experience.