Source of Wealth Checks on Online Casino Sites
We have seen significant changes to the gambling industry as a whole, since the UK Gambling Commission (UKGC) was launched on the 01st September 2007. The need for transparency and trust was evident, but the UK government realised that there were significant problems in this rapidly growing online world. Whether it was underage gambling, using the casinos for money laundering, or gambling addictions, something needed to change.
Both the gambling sites and players have had to adapt to the onslaught of requirements, and many large casino brands made the decision to close their doors to UK players. Whether it is the banning of credit cards as a payment method or that terms and conditions such as wagering requirements are clearly shown on promotional imagery, these changes have been seen as a hinderance to some and for others, very much needed.
Within this guide we're going to focus on one of the background changes that casinos had to introduce, but you probably won't know about until it affects you. This specifically relates to the verification process known as the 'Source of Wealth' check. You may already be aware of 'Know Your Customer' (KYC) which is the need for identification when you initially register with the gambling site. But this is an addition to that KYC check, and it can impact a player when it comes to cashing out their winnings.
So, what is Source of Wealth, why was it introduced and what identification is needed to fulfil the UKGC requirements.
What is a Source of Wealth Check?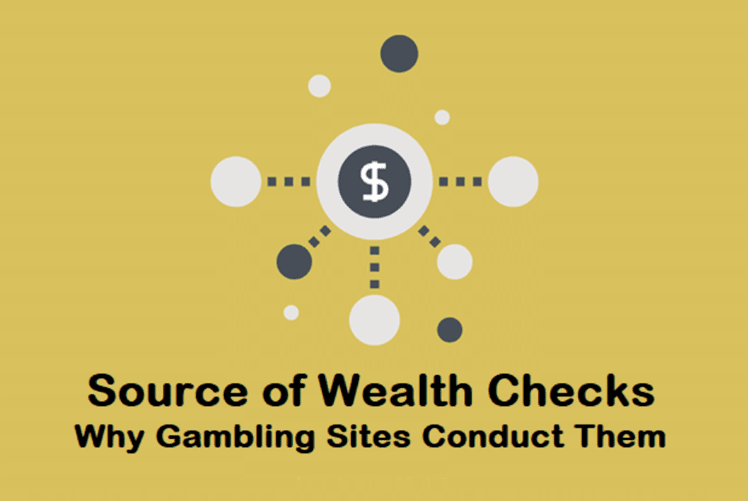 Knowing whether a player has enough money to wager, hasn't been a priority for gambling sites in the past. But this has now changed with the introduction of source of wealth, or source of funds; as it has been known. This check is used to establish if the player has adequate funds to bet and that it is from a responsible source and as such the player isn't building up debt. The trigger to conduct the check is purely the casinos responsibility and would generally be when they feel the player is betting beyond their means.
Source of wealth is a mandatory process and as such the UK Gambling Commission has set rules on how the checks are conducted. Most gambling sites are incredibly stringent with this practice due to the fact that failure to comply could lead to the loss of their UKGC licence.
If you play online on a regular basis and you don't recall being asked to complete a source of funds check, then this may be because you maintain similar betting patterns. Say for example you would normally deposit and bet £10 every day, but then that suddenly changes, and you begin to add £100 instead. Such an increase would trigger the source of wealth check because it was an irregular pattern. As you can imagine high rollers can find this process arduous, as there betting amounts can be quite sporadic, and they must provide documents on a regular basis.
Players who register on a casino and make a large first deposit, may also have to complete the source of wealth check. This is so the casino can ensure it has complied with its duty of care and the UKGC regulations.
Why Do Gambling Sites Conduct Identity Checks?
We've touched upon this above slightly, but the main reason is so the site can establish where the money is coming from and ensure that it wasn't criminal activity such as drugs or sex trafficking. The gambling industry has a reputation of being used as a channel for money laundering, as such regulations were brought in to link the monies to a specific person via identification.
Not only will the checks determine that the money is the players, but it will ensure that it hasn't been obtained via credit. The premise of conducting the source of wealth is so that the gambling site knows that the player can afford the amount they are betting. This is important to help those players who are vulnerable and whom may have gambling addictions.
What Documents are Needed to confirm My Identity During Source of Fund Checks?
We can imagine the thought of going through identity checks and having to provide documents can cause frustration. Even more so when you are waiting to cash out your winnings, but the site is holding them until the process is complete.
It is worth bearing in mind that the source of wealth check was established to protect players, so that the sites can make sure we have the monies to play. Part of this is to connect the money to the player and determine where it originates from. You cannot wager with money from another person, unless the site can confirm that it was a gift. Likewise, it cannot be a redundancy payment, loan, or credit, nor can it be from a business or funded by an illegal source.
Paperwork to fulfil the source of funds will only be required if the gambling site contacts you. To complete this process, you have to send the casino documents which will verify where the money is from. This list will be set by the UKGC but it may vary slightly from site to site; it will include.
Source of Wealth Documents
Job role related information which includes your salary – Also known as proof of earnings, these documents can include a contract of employment, a recent payslip, director remunerations, dividend payment or pensions.
A recent bank or savings account statement which details your salary payments. The gambling site will be looking for consistent incomings from a trustworthy source.
Like the bank statement, they will also accept a recent credit card statement which lists your incomings and outgoings.
If you have any E-wallets then they would require details with your name, account number and any payments made in or out.
The site may request a financial statement which displays a recent deposit into your gambling account. This is used to confirm that you in fact own the related account that triggered the source of wealth request.
Confirm winnings from lottery/betting or casino from a bank statement or a certificate of the win.
Paperwork detailing an inheritance such as a will.
Sale of property, for example a contract of the sale.
Evidence of a sale of shares, such as a share certificate.
Dated evidence of a payment made to you, such as a gift.
Other clear evidence showing affordability.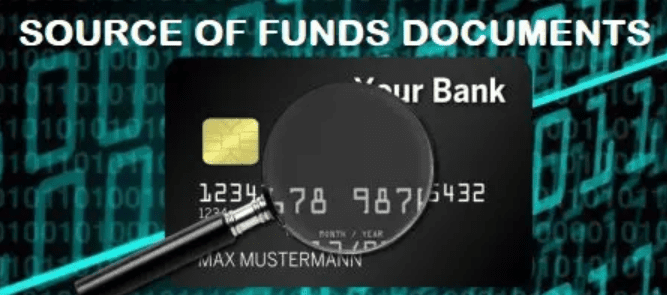 As we have mentioned previously, because all betting sites are regulated by the UK Gambling Commission (UKGC), they will rigorously check that source of funds documents are collected and assessed. Non-compliance with this requirement could lead to both the loss of the sites licence and a substantial fine. The loss of their UKGC licence means that they can no longer provide a service to UK players. Although you may have provided the documents once before, if the casino believes they need to update their information, then they can request another check. This may leave the player frustrated, but for the site failure to comply could lead to them having to close their doors.
If you want to know more about the source of wealth checks then head to your gambling sites terms and conditions section. This should have details of the types of documents that will be requested and the process of verification.
What Happens with your Source of Wealth Documents?
To complete verification checks for know your customer and source of funds, most betting sites will have an online portal. This section will allow you to upload any documents and ensure that they are kept privately and securely using SSL (Secure Sockets Layer) data protection encryption software. Your documents may be kept on the sites portal so that they can be provided for audits conducted by government bodies such as the UKGC, but they will inform you as such.
If You Choose Not to Provide Any Documents
There are some of you who may not wish to comply with the request to provide documents, due to your financial security; so, what happens then. At the point the gambling site contacts you to request the documentation, you will find that your account will normally be locked. It will remain that way until the verification process is complete and the site has ensured compliance.
How many documents you need to provide will depend upon where you sent the funds from. In general, there tends to be two types of verification, with the first used to confirm identity and as such there's normally a photograph: for example, a passport or driving licence. The second is the source of funds as we have described above.
You will have been asked to confirm your identity previously when you registered on the casino site through the Know Your Customer (KYC) checks.
Of course, if you decide not to send your documents, or the site does not feel you have provided enough to fulfil the validation process, then your gambling account may be closed. Although we understand why the sites must be so stringent, we can understand why there has been anger from players who have had their accounts closed after a win and have been unable to provide adequate documents. If your account is closed then you will have your initial deposit returned, but not any subsequent ones made or your winnings.
Another element to consider is the fact that when the casino emails asking for documents, you will be limited on the amount of time you are given before your account is closed. So, the first step is to head to the terms and conditions for full clarification of what is required from you.
Best Casinos for Player Verification
The section above may have caused you a little concern, but the crux of it is you need to try and choose a trustworthy casino. The aim is to feel confident that if the source of funds process is triggered, then the site will conduct themselves in an ethical and honest way.
These are our preferred options for great online gambling sites.
Summary of Source of Wealth Checks on Online Casino Sites
We get it, having to regularly provide documents is an absolute pain, but when you realise why the gambling site is asking for it then hopefully you will feel more comfortable with the process. The most painful part is if you have won, and the source of wealth hinders you from accessing your money and account. In essence all of this is to protect those vulnerable players and ensure that the industry remains free from criminal activity.
If you have concerns about the activity of any betting site, then we recommend contacting the UK Gambling Commission with details of the situation and any supporting evidence. They in essence regulate all UK based gambling sites and as such they will have a greater impact, should the sites actions be unfair.
For most players you will easily be able to fulfil the source of funds should it be required, so don't worry too much. Also, many players are consistent with their betting and so have never heard of this process. Hopefully if this does happen to you, then you're now fully prepared and can continue enjoying your gaming time.