Money Laundering with Online Gambling Sites
The term money laundering isn't a new one, with references often made in the news and movies. Even though it has been around for hundreds of years, it gained prominence in the 1920's. Most of you will be aware of its use within the criminal fraternity, with famous money launderers being Al Capone and Pablo Escobar. Yet most people are still unsure what it actually means, how it impacts society and for the sake of this article, the link from money laundering with online gambling sites and placing a bet online.
Historically online betting had been a vehicle for criminals to legitimise their illicit earnings. But sadly, that misconception still lingers on in the modern gambling industry. This is because people assume that with the vast quantities of money being exchanged on a daily basis, some of it must be laundered.
Although many casino, slot and betting sites had steps in place to prevent criminals from abusing the system. It was the introduction of the UK Gambling Commission (UKGC) and its strict regulations, which created the biggest impact. One prime example can be found in 2018 when the UKGC contacted a number of well-known online casinos and complained that they were not ensuring due diligence was conducted to prevent criminals from laundering money via their site. This failure may have led to their UKGC licence being revoked and as such they would not have been able to continue providing services within the UK.
To say money laundering in the modern world doesn't happen would be naïve. But because authorities are more knowledgeable on the tricks that criminals use and have used, there has been a significant reduction in what had been a multibillion-pound problem.
What is Money Laundering?
This simple question can often be a difficult one to answer, because the details of how to launder money can be incredibly complex; so, let's focus on the basics. If you are laundering money then you are using a process to change 'dirty' money you have made from illegal activities such as drugs, sex and trafficking, and making it 'clean'. This method of making it clean basically means you have legitimised it in the eyes of the authorities. If you were then questioned on how that money was earnt, then you have a trail of evidence to show that it was by lawful means.
As we've previously stated the process of laundering can be complex, but one of the more popular methods is to filter it through a business to give the appearance of profit or earnings. Now that people are more aware of the practices used, the criminals are needing to adapt and become more imaginative.
Because the gambling sector is such a prime target for this type of criminality, they have a number of safeguards in place which will keep the industry reputable.
Safeguards to Stop Money Laundering on Online Gambling Sites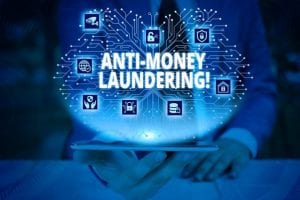 Identification Checks (Know Your Customer)
If you're a regular online gamer, then you will know that to register on a casino site you must provide documents to prove your identity. This process will not only tie the account to a specific person, but also the activity on that account. It is an ideal way to limit any illegal online activity because criminals don't want to link themselves to the money. If the site notices that a player simply deposits and then removes funds without playing, then that will be a red flag and they can close the account down and inform relevant authorities.
The identification process named 'know your customer' was a creation of the UKGC and requires the player to verify their age, name, and address. They must do this by providing the following documents.
To verify your identity and age, the gambling site will require an active government issued ID such as a passport or driving licence.
For the proof of address requirement, the operator will require either a utility bill or a bank statement. The document has to be dated within the previous three months to be valid.
It is possible that the site may conduct a soft credit check, but this will have no affect on your credit score, and it will not blemish your record. We have known some sites to request more identification than the standard documents we have listed. This will purely be to ensure that they have covered every angle of the UKGC's regulations. It may seem excessive, but failure to complete their due diligence can lead to hefty fines and a possible loss of their licence.
During your play you may need to complete a financial verification, which will require you to prove your earnings. It will normally only require one document from a set list of options, but this will include payslips and bank statements. It is another check to prevent money laundering, so the site can determine where your money has come from i.e., is it wages from a salary or a pension.
Wagering Requirements
Wagering requirements is normally attached to bonuses and promotions such as welcome offers. Because the main goal for money laundering is to filter their money through the site and get it back as quicky as possible, conditions such as these can be a problem.
When you accept the bonus and claim the free credit then you are agreeing to the wagering requirement multiplier which is attached. This means that you will not be able to remove any winnings from your account, until you have played through the multiplied amount. Working the amount out is simple; if you've received £10 bonus credit and the multiplier is 65x, then the amount you need to wager through is £650.
If you are a money launderer then this will create two problems for you. Firstly, the fact that you have to play through the credit you deposit means you may walk away with less than you deposited. Then secondly it can take some time to work through the wagering requirement, depending on how much credit you initially deposited.
Maximum Bet Limits
It is normal for online gaming sites to place minimum and maximum amounts on their deposit limits. Obviously when it comes to money laundering, the minimum amount will have little impact. It is the maximum amount which will cause the bigger problems for them, as they cannot 'clean' as much money as they would want to without hitting the limits.
Gambling sites are also known to audit players who deposit large amounts on a regular basis. They will do this by requesting financial information which are known as 'source of wealth documents'. As we've previously mentioned, this connection between an account and the players identification is incredibly off putting to money launderers. The concern is that anyone looking at their records too closely, may put them at risk of being caught which will lead to police involvement.
Another area to consider with this is the banking method chosen, because most financial institutions have maximum and minimum deposit limits. They are also heavily regulated and are known to audit accounts where a customer behaviour is out of the ordinary.
Cryptocurrency in Online Gambling and Money Laundering
Cryptocurrency alike online gambling has received a bad wrap for assisting criminals in laundering their ill-gotten gains. Popular options such as Bitcoin have seen an influx in interest over the last few years and as such, they have become more mainstream and difficult to manipulate. To buy cryptocurrency and sell it, you now have to provide personal details and identification. This again removes any anonymity from the buyer and links them to a bank account which can be audited. The process of leaving evidence to track is a money launderer's worst nightmare and as such the use of cryptocurrency for crime has diminished.
Summary of Money Laundering with Online Gambling Sites
The crux of all of this is that with the assistance of the UK Gambling Commission, the impact of money laundering has significantly reduced. UK gaming sites must all comply with money laundering regulations, under the Proceeds of Crime Act 2002. In the long run this will protect both the online players and will help maintain economic stability.
For many the 'know you customer' process can be quite frustrating and time consuming, but hopefully you will now see that there are legitimate reasons behind it. Ensuring the gambling sector remains credible is an important role for everyone involved and as such the site has a duty to report anyone who may be gambling with proceeds of crime. This in the long run will safeguard both the casino and us, which is something we shouldn't complain about.